A delicious and great starter for any meal. This Chicken Cutlet is best served with a salad, onion rings and chutney or sauce.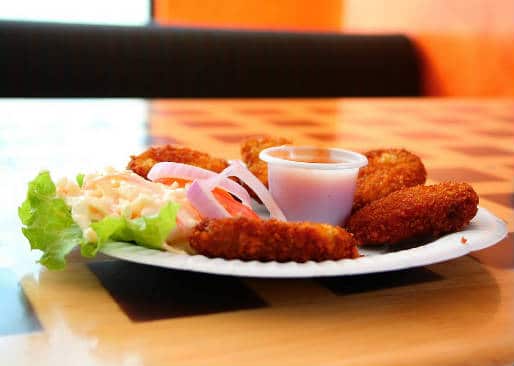 Ingredients:
Chicken – 250 gms, minced
Garlic – 1 tsp, minced
Onion – 1/4 cup, finely chopped or minced
Ginger – 1/2 tsp, minced
Red Chilli Powder – 1/4 tsp
Turmeric Powder – 1/4 tsp
Garam Masala Powder – 1/2 tsp
Coriander Leaves – handful, chopped
Mint Leaves – few, chopped
Bread Slices – 1 to 2 (depending on size), crumbled
Egg – 1, well beaten
Breadcrumbs – 1/2 cup
Salt as per tate
Oil – 1 tblsp + extra for frying
Method:
1. Heat 1 tblsp oil in a pan over medium flame.
2. Saute the onions, garlic and ginger for a minute.
3. Add red chilli powder, turmeric powder, minced chicken and salt.
4. Cook for 2 minutes and cover the pan with a lid.
5. Reduce flame to low and cook until chicken is tender.
6. Add garam masala powder, coriander leaves and mint leaves.
7. Stir well.
8. Add the crumbled bread slice and stir again.
9. Remove from flame and cool.
10. Make small balls of the mixture and shape them into cutlets of desired shapes.
11. Dip them in the egg and roll them in the breadcrumbs.
12. Heat oil in a deep frying pan.
13. Fry the prepared cutlets until golden brown.
14. Remove and drain excess oil.
15. Serve hot with salad, onion rings and chutney or sauce.