Mochai Kotta sundal is one of the regular sundal varieties made during Navratri and served as a snack to guests coming for Navratri golu. In some places, chopped onions is also added.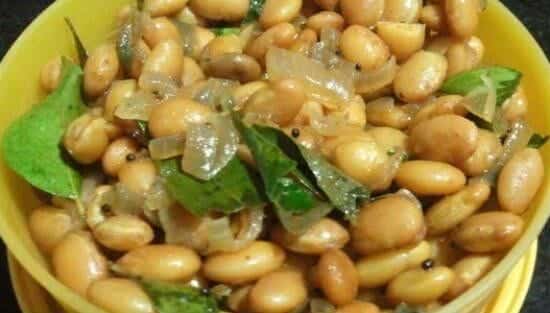 Ingredients:
Dried Broad Beans (Mochai/Mochaikottai) – 4 cups
Mustard – 2 tsp
Salt as per taste
Oil – 1/3 cup
Asafoetida – little
Curry Leaves – little
Coconut – 1/2, grated
Red Chillies – 8 to 12, split into two
Method:
1. Wash the beans. Clean and soak overnight.
2. Next day, wash again 4-5 times.
3. Heat a pan with water over modeate heat.
4. Add the drained beans. Cover and cook for 30 minutes.
5. Once cooked, strain the extra water and keep a little with the beans.
6. Add salt.
7. Stir well and cook till the salt mixes well.
8. Remove and empty the contents to a strainer.
9. Heat the oil on a heavy bottomed pan over moderate heat.
10. Fry the mustard seeds and red chillies.
11. Add cooked beans.
12. Make a thick solution of asafoetida with water.
13. Pour it over the cooked beans.
14. Garnish with curry leaves and grated coconut.
15. Serve as a snack to guests coming to Navratri golu.