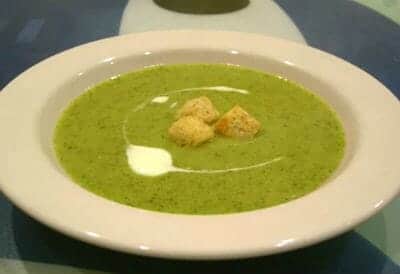 Ingredients:
Broccoli – 500 gms
Oil – 1 tblsp
Cornflour – 1 tblsp
Vegetable Stock – 2 cups
Salt – 1 tsp
Black Pepper – 1/2 tsp, freshly ground
Cream – 1/2 cup
Cheddar Cheese – 4 tblsp, grated
Method:
1. Cut the broccol into small florets.
2. Heat the oil in a pan over moderate heat and saute the broccoli lightly.
3. Mix the cornflour with a little stock in a bowl until well blended.
4. Pour in the remaining stock and mix well.
5. Add the blended cornflour to the broccoli and cook for about 10 minutes.
6. Add the salt and pepper. Remove from heat.
7. Puree the soup and return it to the pan.
8. Place the pan over moderate heat and heat through.
9. Transfer the soup to individual serving bowls and garnish with cream.
10. Sprinkle the grated cheese on top.
11. Serve hot.