A simple, rich and flavourful soup with broccoli and cauliflower. A perfect meal for dinner, especially during the cold winter days.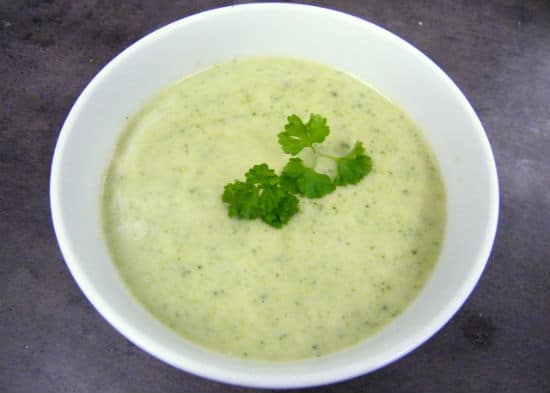 Ingredients:
Cauliflower – 1
Broccoli – 1
Onion – 1
Butter – 3 tsp
Milk – 2 cups
Pepper Powder – 1/2 tsp
Nutmeg Powder – 1/4 tsp
Coriander Leaves – handful, finely chopped
Breadsticks – as required
Salt as per taste
Method:
1. Wash and finely chop the broccoli and cauliflower.
2. Steam cook the chopped pieces and transfer to a blender.
3. Add a little milk and grind to a smooth paste.
4. Heat butter in a frying pan over medium flame.
5. Saute the onions until golden.
6. Add the broccoli-cauliflower paste, remaining milk and reduce flame to low.
7. Simmer for 2 minutes.
8. Blend this again and strain well.
9. Place it over medium flame and simmer for 2 to 3 minutes.
10. Add salt, pepper powder, nutmeg powder, coriander leaves and stir gently.
11. Remove from flame.
12. Serve with breadsticks.