Bhel Puri is a very popular North Indian chaat/street food recipe. There are numerous regional variations to this popular chaat(snack).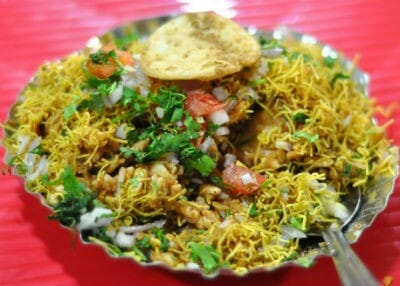 Ingredients:
Puffed Rice – 4 cups
Sev – 1 cup
Red Chilli Powder as per taste
Papdi – 20, crushed
Onions – 1/2 cup, finely chopped
Potatoes – 1/2 cup, boiled, finely chopped
Sweet Tamarind Chutney – 8 tblsp
Green Chutney for Chaat – 4 tblsp
Black Salt – 1 tblsp
Lemon Juice – 1/2 tblsp
Salt as per taste
Coriander Leaves – few
To Garnish:
Mango – 1 tblsp, finely chopped (optional)
Sev – 2 tblsp
Peanuts – 2 tblsp, roasted
Tomatoes – 2 tblsp, finely chopped
Green Chillies – 1 tsp, finely chopped
Onions – 2 to 3 tblsp, finely chopped
Method:
1. Combine the puffed rice, sev, red chilli powder, papdi, onions, potatoes, green chutney, tamarind chutney, black salt, coriander leaves and salt in a large bowl.
2. Mix well.
3. Garnish with the mango pieces, coriander leaves, sev, peanuts, tomatoes, green chillies and onions.
4. Sprinkle lemon juice on top.
5. Serve at once.
Note: In some parts  grated carrot and pomegranate seeds are also added. If desired, you can add them too.
image via flickr: https://www.flickr.com/photos/thebigdurian/4122459036/