Crispy and crunchy noodles with tangy sauce. A delicious Bhel chaat/snack in Chinese style.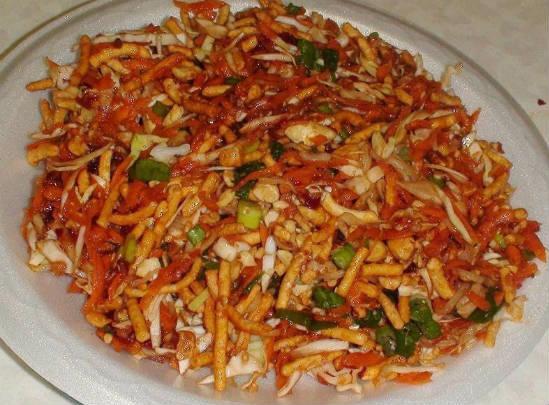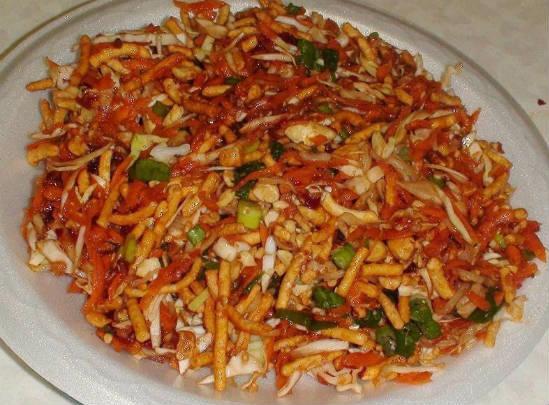 Ingredients:
Plain Noodles – 100 gms, cooked as per packet instructions
Oil – 400 ml
Spring Onions – 1 to 2, depending on size, sliced
Bean Sprouts – 1/4 cup
Peanuts – 1/4 cup, roasted, finely chopped
Tomato Ketchup – 1 tblsp
Schezuan Sauce – 1 tblsp
Salt as per taste
For the Schezuan Sauce:
Dry Red Chillies – 5, finely chopped
Garlic – 4 to 5 cloves, peeled, chopped
Spring Onion – 1, chopped
Celery – 1 inch piece, chopped
Green Chillies – 2, chopped
Ginger – 1/2 inch piece, grated
White Vinegar – 1 tsp
Vegetable Stock – 1/4 cup
Tomato Ketchup – 2 tsp
Salt – 1/2 to 3/4 tsp
Oil – 1/4 cup
Method:
1. To make the schezuan sauce, heat 1/2 cup of water in a pan.
2. Add the red chillies and bring to a boil.
3. Drain well and keep aside.
4. Grind the red chillies and garlic (reserve 2 garlic) with 2 tsp of water to a fine paste.
5. Heat oil in a pan over medium flame.
6. Add the reserved garlic, green chillies, spring onion whites and ginger.
7. Stir-fry for a minute.
8. Add the garlic paste and saute for a minute or two.
9. Pour the vegetable stock, ketchup, celery and salt.
10. Mix well.
11. Add vinegar and stir to combine.
12. Simmer for 2 to 3 minutes.
13. Remove from flame and add the spring onion greens.
14. Stir to mix and cool.
15. Store in an airtight container in the fridge. Stays good for up to 2 days.
16. Heat some oil in a frying pan.
17. Fry the noodles until crispy and light golden.
18. Remove and drain excess oil.
19. Crush the noodles lightly and transfer to a bowl.
20. Add the spring onions, bean sprouts and peanuts.
21. Toss well.
22. Add the schezuan sauce and tomato ketchup.
23. Mix well.
24. Add little salt and mix again.
25. Garnish with some spring onions and serve at once.
Note: Store any leftover Schezuan Sauce in an airtight container and keep it in the fridge. Stays good for up to 2 days.
image via Youtube