A delicious dish from Parsi cuisine. Fish fillets marinated, wrapped in banana leaves and steam cooked until tender.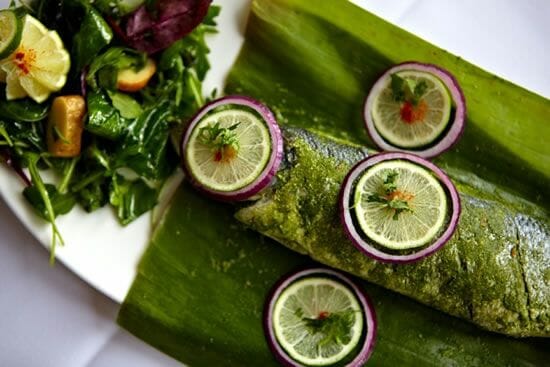 Ingredients:
Boneless Fish Fillets – 400 gms (pomfret, pompano or butterfish), cut into bite-sized pieces
Coconut – 2 cups, grated
Lemon Juice – 1/4 cup
Green Chillies – 8 to 10, chopped
Coriander Leaves – 3 cups, chopped
Cumin Seeds – 2 tblsp
Garlic – 18 to 20 cloves
Banana Leaves – 6 to 8, cut into 2 to 3 pieces
Salt as per taste
Method:
1. Transfer the fish pieces to a bowl.
2. Add 1 tsp salt and 2 tblsp of lemon juice.
3. Gently mix and keep it in the fridge for 45 to 60 minutes.
4. Grind the coconut, coriander leaves, cumin seeds, green chillies and garlic with 1/4 cup of water to a smooth paste.
5. Add 2 tsp salt and remaining lemon juice.
6. Mix well.
7. Remove the fish from the fridge and keep aside for 2 minutes.
8. Add the ground paste to the fish and rub, gently, all over the fish.
9. Keep aside for another 30 minutes.
10. Keep the banana leaves over an open flame for 10 seconds and place them on a flat surface.
11. Add some of the fish and add any chutney on top.
12. Fold well to cover the fish and shape into a packet.
13. Steam cook the fish parcels for 15 to 20 minutes.
14. Remove and serve hot.
Image via New Haweli Restaurant