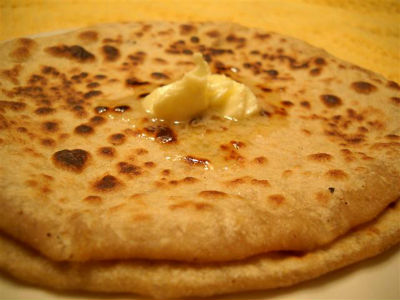 Ingredients:
Wheat Flour – 1 cup
Salt – 1/4 tsp
Oil as required
Warm Water – 1/2 cup or as required
Ghee or Butter – 1 tblsp
For the stuffing:
Potatoes – 2, medium, peeled, boiled, mashed
Red Chilli Powder – a pinch
Coriander Powder – 1/4 tsp
Cumin Powder – 1/4 tsp
Coriander Leaves – 1 tblsp, chopped

Method:
1. Sift together the wheat flour with salt.
2. Mix well.
3. Gently pour the water and knead to a soft dough.
4. Knead until the dough becomes very pliable.
5. Cover and keep aside in a warm place for 30 to 45 minutes.
6. Meanwhile combine all the stuffing ingredients and mix well.
7. Make small-medium sized balls of the dough and flatten them.
8. Roll them into a small-medium cirle on a floured surface.
9. Spoon over 1 tblsp of the filling and spread it evenly on one side.
10. Cover it with another uncooked paratha and carefully seal the edges, using little water if required.
11. Repeat the same for the remaining dough.
12. Heat a tawa over medium flame.
13. Cook the prepared parathas until reddish-brown spots appear.
14. Flip the paratha and cook the other side for 30 to 40 seconds, adding little oil.
15. Remove and brush the top with melted ghee or butter.
16. Serve hot with curd and pickle.