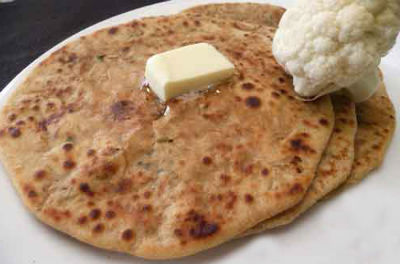 Ingredients:
Wheat Flour – 250 gms
Maida – 250 gms
Cumin Seeds – 1/2 tsp
Cumin Powder – 1 tsp
Garam Masala Powder – 1 tsp
Ginger Paste – 1/4 tsp
Coriander Leaves – few, chopped
Onions – 2, finely chopped
Cauliflower – 2 cups, boiled
Black Pepper Powder – 2 tsp
Turmeric Powder – a pinch
Ghee as required
Oil as required
Salt as per taste

Method:
1. Combine the wheat flour, maida, salt and enough water in a bowl.
2. Knead well to a thick, pliable dough and keep aside for a few minutes.
3. Heat ghee and oil in a pan.
4. Fry the cumin seeds for 30 seconds.
5. Add onions, ginger paste and saute for 2 minutes.
6. Add salt, turmeric powder, pepper powder, cumin powder, garam masala powder and cauliflowers.
7. Stir well and cook for a minute or two.
8. Mash well and then remove.
9. Combine the dough and cauliflower mixture together.
10. Knead well until combined.
11. Make small balls and roll them into small/medium parathas.
12. Heat a tawa over medium flame.
13. Cook the prepared parathas on both sides and remove.
14. Serve hot with side dish of choice.