Ragi (or Finger Millet) is a healthy and nutritious grain that is rich is minerals, gluten-free, iron and protein. This is a delicious & healthy variation to the regular dosas and can be served for breakfast or evening tiffen.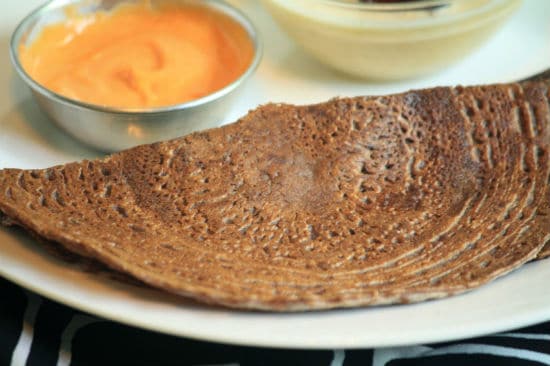 Ingredients:
Ragi Flour – 2 cups
Rice Flour – 1/2 cup
Jaggery – 1 cup, powdered
Coconut – 2 tblsp, grated
Cardamom Powder – 1 tsp
Ghee as required
Salt as per taste
Method:
1. Heat a large pan of water over medium flame.
2. Add all the jaggery and stir until fully dissolved.
3. When it starts to simmer, remove and strain this liquid.
4. Combine the ragi flour, rice flour, coconut, cardamom powder and salt in a large bowl.
5. Gradually pour the jaggery syrup and mix well to a dosa batter consistency.
6. Heat a dosa tawa over medium flame.
7. Pour a ladleful of the batter and spread evenly.
8. Apply ghee around the edges and cook on both sides.
9. Remove and serve hot.