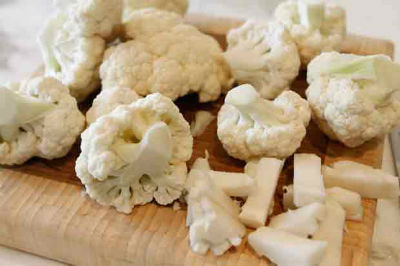 Ingredients:
Cauliflower – 1, small, cleaned, broken into florets
Spring Onions – 1, small bunch, finely chopped
Ginger Garlic Paste – 1 1/2 tsp
Plain Flour – 2 to 3 tblsp
Corn Flour – 1 1/2 tblsp
Red Chilli Powder – 1/8 tsp
Oil – 1 1/2 tblsp + some more for deep frying
Dry Red Chilli – 1
Water – 3/4 cup
Milk – 1/2 tblsp
Salt as per taste
Soy Sauce – 1 tblsp
Method:
1. Heat a large pan of water over medium flame.
2. Add a tblsp of milk and the cauliflower.
3. Boil for 3 minutes and remove the florets.
4. Drain excess water and pat dry.
5. Combine plain flour, 3/4 tblsp of conrflour, 3/4 tsp of ginger garlic paste and a small pinch of red chilli powder and salt.
6. Make a thin batter.
7. Dip the cauliflower florets in this batter and deep fry in hot oil.
8. Remove and drain excess oil.
9. Heat 1 tblsp of oil in a pan.
10. Add the remaining ginger garlic paste, dry red chilli and fry for 45 seconds to a minute.
11. Stir-fry the spring onions and salt.
12. Pour 1 cup of water and bring to a boil.
13. Mix the remaining cornflour with little water and pour into the gravy.
14. Stir well and bring to a boil.
15. Add the cauliflower florets and soy sauce.
16. Cook for 2 minutes and remove.
17. Serve hot with noodles or rice.
Note: image is for illustration purposes only and not that of the actual recipe.