Chicken Quesadilla is a very popular Mexican dish served as a snack throughout the day. Packed with cheese and shredded chicken, the quesadillas are a versatile dish.
The dish is very easy to make and can be combined with any ingredient for filling. Some of the regional variations include chopped capsicum, sweet corn kernels, bacon, multiple cheese varieties and many more. However you want to make it, make sure you serve with tomato salsa and sour cream.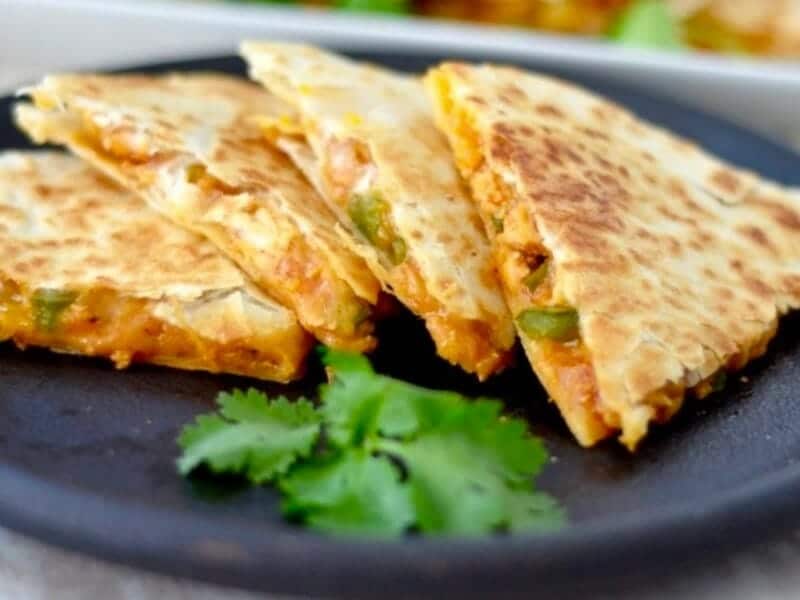 You can try out different filling combinations for this quesadilla by adding any of the below suggestions:
To make it more cheesy, add 1/2 cup of cheddar or mozzarella cheese.
Add 100 gms of sliced and sauteed buttom mushrooms.
Add red and green capsicums.
Add sweet corn kernels.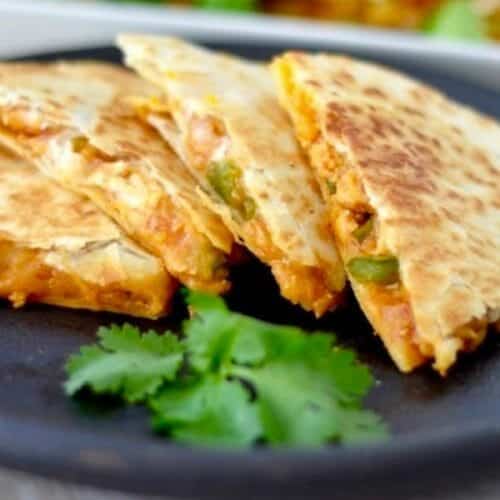 Chicken Quesadillas

Recipe

A finger-licking dish from the Mexican cuisine, these are perfect snack for any time of the day.
Ingredients for
Chicken Quesadillas
1

Small Chicken Breast

skinless, boneless

1

Onion

halved or quartered

1

Garlic Clove

minced

2 to 2 1/2

cup

Water

1

Bay Leaf

1/2

tsp

Dried Oregano

3

Corn Tortillas

3/4

cup

Monterey Jack Cheese (or Cheddar Cheese)

1 to 2

tblsp

Olive Oil

1/2

cup

Tomato Salsa

1/2

cup

Sour Cream

as per taste

Salt
How to make
Chicken Quesadillas
Heat water in a pan over medium flame.

Add the onion, garlic and some salt.

Bring to a boil.

Add the chicken, bay leaf, oregano and reduce flame.

Cook the chicken for 30 minutes.

When the chicken is ready, remove and shred it into small pieces.

To check if the chicken is ready, slit the chicken in half and if the inside is no longer pink in color and juices run clear, then it's cooked.

Place a tortilla on a flat surface.

Add some cheese and top it up with shredded chicken.

Add some more cheese on top and fold it into a half circle.

Repeat with the remaining tortillas.

Heat olive oil in a large non-stick pan over medium flame.

Place the prepared quesadilla in the pan.

Make sure to hold down the top until the cheese begins to melt and holds the tortilla in place.

After a couple of minutes, flip the quesadillas over and cook for 2 minutes.

Remove and transfer to a serving plate.

Cut them in half.

Serve with tomato salsa and sour cream.