A variation of the traditional laddu made with mixed millets.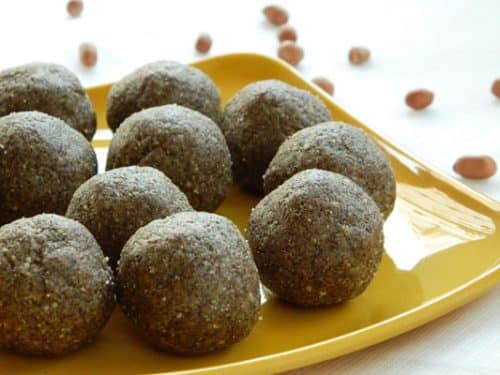 Millet Laddu is variation made with millet flour and is equally delicious as the regular laddus. Laddus are a popular sweet across India and is a common feature during all festivals or special occasions.
Laddus are very commonly made from besan or Bengal gram flour. Apart from this there are multiple variations that one can use. Check out some of our other recipes: Roasted gram and Ragi laddu, Ragi laddu, Aval fruit laddu, Carrot and  paneer laddu
Prior to the increased consumption of rice and wheat grains, millets were consumed as staple food across India. They are usually wholegrain and are a great source of micro nutrition. Hence, they are considered a much better option that rice or wheat. With so much of processed foods available, making sweets during festivals like Diwali is an ingenious way to infuse and introduce healthy ingredients to the family and kids.
The key ingredients to make this laddu are mixed millets flour, ghee, jaggery and some nuts and cardamom. Roasting the ingredients releases their flavour and makes it tastier. You can use all sorts of millets – ragi, jowar, bajra, samai, etc.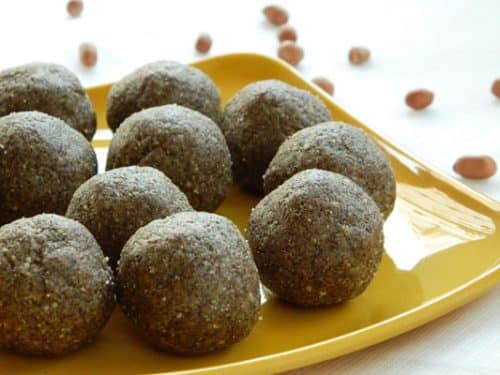 Millet Laddu
A variation of the traditional laddu made with mixed millets.
Ingredients
2

Cups

Millet Flour

1

Cup

Jaggery

powdered

2-3

tbsp

Water

¼

Cup

Ghee

a pinch

Ginger Powder
Instructions
Dry roast the flour until light golden.

Add enough water to jaggery and place it over medium flame.

Stir regularly until jaggery has fully dissolved.

Strain to remove impurities.

Place it over the flame and simmer until it starts to thicken.

In the kadhai, add the jaggery, ghee and ginger power and stir well until you see a dough like consistency.

Take out the mixture and pinch out balls from it to make laddus.

Store them in air-tight container.
Notes
Millet Flour can be made by taking equal measures of Corn, Varagu, Samai Arisi and Thinai. Dry roast and grind them to a powder.