The eve of Valentine's Day calls for a romantic dinner date with the love of your life, and what else can make this dinner super sweet than a tasty Valentine's cake. Whether you or your better half are fond of fruits, chocolate lovers, or simply relish succulent desserts, these 6 Valentine's Day cake recipes are perfect for casting a romantic spell on your dinner date.
RED VELVET CAKE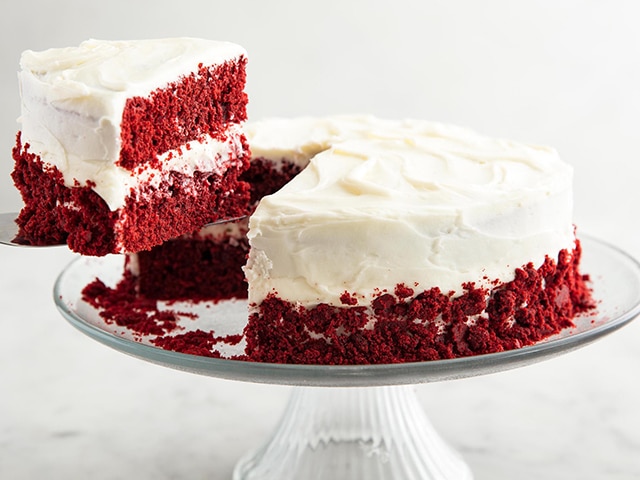 Red Velvet Cake is essentially the flavor of love, making it a perfect dessert to bake for your beau this Valentine's Day. Sporting a tempting spongy texture, this cake with the irresistible layer of cream cheese is very easy to prepare. It is made with maida, egg, sugar, food color, buttermilk, cream cheese, butter, and nuts. Alternating with delicious layers of cake and creamy frosting, this treat is decorated with loads of lovely white chocolate shavings.
5 SPICED CHOCOLATE CAKE

It couldn't be easier to prepare such an amazing treat at home. As the name suggests, the Five-Spice Chocolate cake requires ingredients like Chinese five-spice powder, all purpose flour, bittersweet chocolate, egg, sugar, chocolate chips, buttermilk, and strongly brewed hot coffee. This rich treat can be made with a minimal effort and is surely a fantastic dessert for this year's Valentine's day.
COFFEE WALNUT CAKE

Looking absolutely appetizing, this soft and moist layer cake flaunting a flavor of coffee and walnut can cast a captivating spell on your loved one with its thick and creamy icing of Coffee Buttercream. It is prepared with caster sugar, butter, instant coffee granules, eggs, maida, walnuts, and cream. Preparing the spongy and smooth cake is just as easy as how luscious and rich it looks.
BROWNIE CARAMEL CHEESECAKE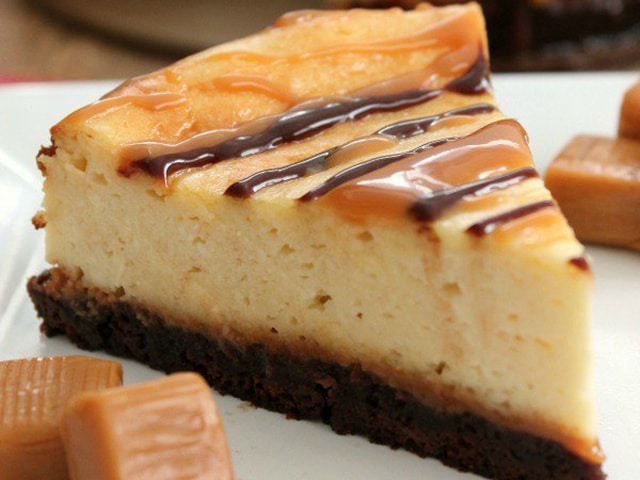 If you are looking for something sinfully sweet this Valentine's Day, try this rich and velvety Brownie Caramel Cheesecake. An exquisite cheesecake with layers tinted with distinct flavors, starting from dark brownies to rich cream cheese layer. The layers are beautifully assembled and each layer is made separately with distinct ingredients.  It includes ingredients like sugar, egg, unsalted butter, cocoa powder, flour, cream cheese, milk, and caramel. It is a bit of work and the outcome is definitely worth the effort!
HONEY LEMON CAKE 

A wonderful homemade cake can make a special day even more special and memorable for years to come. And this Honey Lemon cake does that for your Valentine's Day. This cake hides some amazing treasures with a delectable vanilla icing. Preparing this yummy cake involves ingredients like honey, lemon juice, flour, butter, sugar, eggs, and cream. It is incredibly simple to make and you can decorate this with lemon rings and cherries.
BLUEBERRY CAKE

If you are looking for a fresh and light cake, you have the recipe right here. Sweet, soft and tangy, this beautiful cake has got everything that you would ever like in a Valentine's day dessert. This cake is surprisingly easy to bake. What you will need to bake this cake is some fresh blueberries, butter, sugar, eggs, all purpose flour, sour cream, grated lemon peel, and ground cardamom. Enjoy a slice of this cake with a cup of espresso on your romantic date night.
There's no sweeter gift you can give your beau than one of these finger-licking cakes. Pair them with a heart tugging gift and a romantic dinner date that they'll never forget. And don't forget to make your Valentine  fall in love with you all over again.