Savory Peshawari Chickpeas: A Spiced Delight to Savor.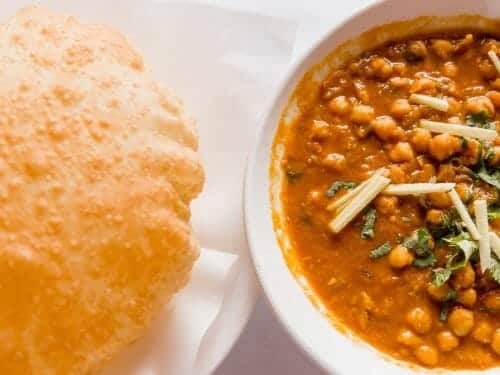 Embark on a culinary journey with the enchanting flavours of Peshawari Chana. This iconic Pakistani dish transforms humble chickpeas into a harmonious symphony of spices and aromas that dance on your palate.
Imagine tender chickpeas, soaked overnight and boiled to perfection, infused with the rich hues of tea leaves. These flavorful legumes are met with an ensemble of aromatic spices—turmeric, coriander, cumin, and the essential chana masala—coming together to create a masterpiece that captures the essence of Peshawari cuisine.
The process begins with the unique touch of tea leaves, bathing the chickpeas in a deep, inviting colour. As the chickpeas cook, the air fills with a captivating aroma that foretells the feast. Sautéed onions, slit green chillies, and the dynamic ginger and garlic paste duo join the symphony, intensifying the flavours.
The climax arrives when the chickpeas meet the spice-infused tomato mix, transforming into a harmonious union. Together, they weave a rich, spicy masala that enrobes the chickpeas, ensuring every bite is a delight. A dash of garam masala and salt adds the final crescendo, completing this indulgent dish.
Enjoy Peshawari Chana with fragrant rice or soft chappathis, immersing yourself in a traditional feast tickles the senses. For those seeking complementary flavours, explore pairings like fragrant biryanis such as Chicken Biryani or Vegetable Pulao, enhancing your culinary experience.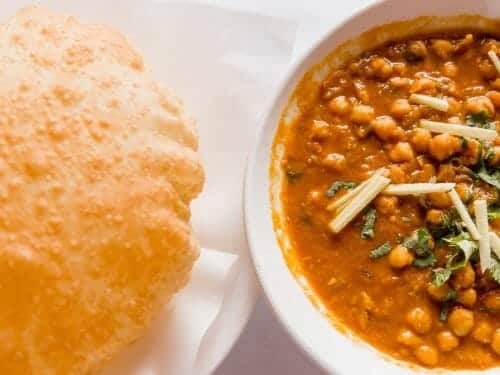 Peshawari Chana

Recipe

Savory Peshawari Chickpeas: A Spiced Delight to Savor.
Ingredients for
Peshawari Chana
1

cup

Chickpeas (soaked overnight)

1/2

cup

Onion (chopped)

3/4

cup

Tomato (chopped)

1

tsp

Turmeric powder

2

tbsp

Coriander powder

1

tsp

Garam masala powder

1

tbsp

Chana masala

1

Bay leaf

2

tsp

Tea leaves

1

tbsp

Garlic paste

1

tbsp

Ginger paste

1

tsp

Cumin powder

1

tbsp

Red chilli powder

2

Slit green chillies

Water (as required)

2

tbsp

Oil

Salt (to taste)
How to make
Peshawari Chana
Boil soaked chickpeas with tea leaves until soft and dark. Drain.

Heat oil, add bay leaf, onions, sauté.

Add green chillies, ginger, and garlic paste. Stir.

Introduce turmeric, coriander, cumin, chana masala, and tomatoes. Deep fry.

Combine chickpeas and water. Cook until coated.

Add garam masala, salt. Mix well.

Serve with rice or chappati.
Serving Size: 3-4 servings
Frequently Asked Questions:
How spicy is Peshawari Chana?
Peshawari Chana boasts a moderate spice level that's balanced by aromatic flavours. Adjust the red chilli powder according to your taste preferences.
Can I omit tea leaves while cooking the chickpeas?
Certainly, you can skip the tea leaves. They add colour and earthy undertones, but omitting them will maintain the overall taste.
What pairs well with Peshawari Chana?
Pair Peshawari Chana with fragrant saffron rice, basmati rice, or soft chappatis. For flavour adventures, explore its companionship with Vegetable Biryani or Aloo Paratha.
Can canned chickpeas be used instead?
Canned chickpeas can be a convenient substitute. However, the texture and taste vary slightly from the traditional recipe.
Is Peshawari Chana suitable for vegans?
Indeed, Peshawari Chana is a delightful vegan option, embodying rich flavours without compromising dietary preferences.