Valentine's Day is almost here and we are sure you are leaving no stone unturned to make it a special celebration for your loved ones. Well then, what better way to make someone feel loved and pampered than by serving delicious food to display your affection?
Try these simple yet easy recipes to give your loved one a unique dining experience, leaving him/her wanting and asking for seconds. Not to mention, brace yourself for loads of compliments coming your way!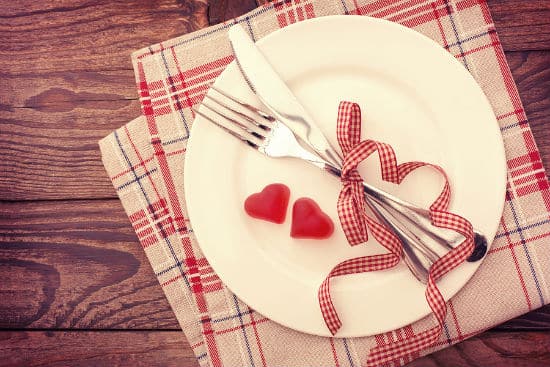 #1 Mini (strawberry & pancake) kababs:
Prepare heart shaped mini pancakes, slice some fresh strawberries, get your hands on some whipped cream and you are good to go.
Stack up the skewer with heart shaped mini pancakes sandwiched between layers of strawberry slices and fluffy whipped cream to create this breakfast delight.
#2 Strawberries with nutella French toasts:
Prepare nutella sandwiches; dip them in a batter made of eggs, milk, melted butter, cinnamon powder, vanilla essence and salt.
Shallow fry in a skillet coated with melted butter till both sides are golden brown (add more butter if needed).
Place the golden brown sandwiches on a plate, dust them with powdered sugar, top them up with fresh strawberries and serve immediately. Yummy!!!
Wish to start the day with a hearty breakfast for two? Find more Valentine's day breakfast recipes here.
#3 Strawberry Smoothie:
Three ingredients (milk, strawberry jam and frozen strawberries) are all you need to make this simple yet delicious strawberry smoothie.
Simply take all the three ingredients and throw them into a good blender and whirl away. Frozen strawberries help thicken the mixture while keeping it chilled without the need of diluting the mixture with ice.
Pour the smoothie into a glass, garnish it with a slice of strawberry and that's all you need to have compliments come your way.
#4 Marshmallow Hearts in hot chocolate:
A simple drink with a twist of love. Add heart shaped marshmallows into your favorite hot chocolate before serving it. The heart shaped mini marshmallows are sure to melt hearts!
#5 Valentine fruit platter:
Bring your favorite fruits together and pull out your cookie cutters (heart shaped preferably). With the help of the cookie cutters cut and shape your fruits the way you want. Eg. Cut the watermelon with the heart-shaped cookie cutter and arrange the orange as an arrow passing through it.
#6 Cauliflower Bisque with Croutons:
Try this sauce by combining cauliflower, milk, potato, stock, garlic, onion and thyme in a large saucepan and cook it reduced heat, until all the veggies become very tender. Season with pepper and salt. Puree the soup in a blender until it's nice and smooth.
Melt butter in a large pan or skillet over medium heat. Cook, and swirl occasionally, until light golden brown. Add the bread and cook, often stirring, until lightly toasted. Season with pepper and salt.
Serve this yummy creamy bisque topped with pomegranate seeds, croutons (can be made a day before) and chives. Easy to make and sure to please.
#7 Love pancakes with raspberry sauce:
Prepare heart-shaped pancakes (you could make free form hearts or instead use heart shaped pancake molds). Stack up the pancakes with a good spread of Nutella in between each of the pancakes to form a layer.
Drizzle the heart-shaped (love) pancake tower with raspberry sauce and top it up with fresh raspberries.
Crazy for desserts? Find more chocolate desserts recipes here.
#8 Engagement Pasta Chicken:
Slow cook the chicken breast till a nice crust is formed on both sides and it turns golden brown. Keep it aside. Meanwhile cook some dry white wine in the same skillet in which the chicken was cooked, and pour it over the cream cheese kept in a separate bowl. Stir and mix it until it melts.
Cook up your favorite pasta noodles and once the pasta is ready, drain it, and pour it immediately over the cream – wine cheese mixture. Toss the pasta noodles to melt well and distribute the cream – wine cheese sauce evenly.
Add some sliced up mushrooms after sautéing them in butter.
Serve it hot and with loads of love.
Valentine's Day is all about romance, then why shy away from going ga-ga over love? This year, choose from a wide variety of our most romantic love recipes – from appetizers to meals and desserts, and get your loved one in the mood with the right food. Wishing everyone a happy and hearty Valentine's Day!