Yummy, cheesy and easy to make chicken quesadillas. Great as a starter or as a main, they are also perfect dinner dish that the entire family will love.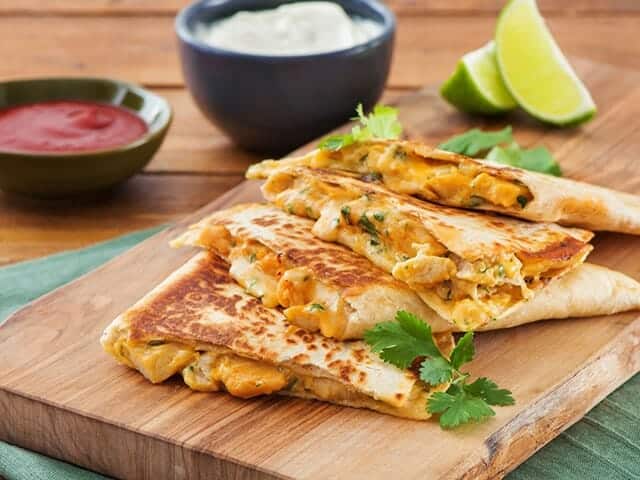 Ingredients:
Tortillas – 4
Olive Oil as required
Lettuce as required for serving
For the filling:
Cheddar Cheese – 1/4 cup, grated
Mozzarella Cheese – 1/4 cup, grated
Cream Cheese – 50 gms
Mayonnaise – 3 tsp
Coriander Leaves – handful, chopped
Chicken – 150 gms, shredded, boneless and skinless
Sour Cream – 1/4 cup
Black Pepper Powder as per taste
Method:
1. Mix the cheddar cheese, mozzarella cheese and mayonnaise in a bowl.
2. Add the coriander leaves and mix again.
3. Place two of the tortillas on a flat surface.
4. Spread them with the cheese paste.
5. Top up with the shredded chicken, sour cream and sprinkle with pepper powder.
6. Cover with the remaining two tortillas.
7. Use a little water and seal the edges.
8. Heat little olive oil in a non-stick pan over medium flame.
9. Cook the tortillas on both sides until golden brown and the cheese melts.
10. Remove and serve with lettuce and tomato salsa.
image via YouTube
Subscribe to our Newsletter
Receive the latest recipes & kitchen tips !