A delicious, flavourful and easy to make mashed potatoes with garlic and cheese.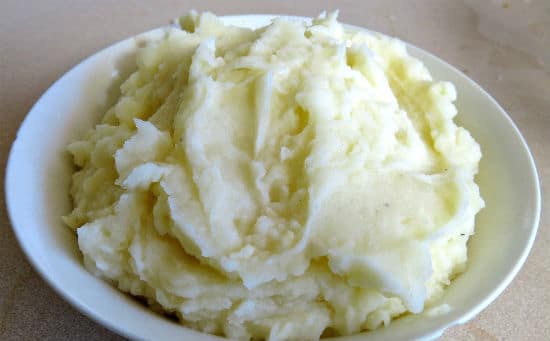 Ingredients:
Potatoes – 500 gms
Extra-Virgin Olive Oil – 2 tblsp + extra
Garlic – 10 cloves
Parmesan Cheese – 1/3 cup, grated
Thyme – 1/2 tsp
Milk – 1/4 cup
Butter – 50 gms
Salt as per taste
Black Pepper Powder as per taste
Method:
1. Cut the top of the garlic cloves.
2. Drizzle a little olive oil.
3. Heat a nonstick pan over medium flame.
4. Shallow fry the garlic over low flame until tender. Ensure the garlic does not get burnt.
5. Remove and squeeze the garlic to extact the pulp. Discard the skins and keep aside.
6. Heat a large pan of water over medium flame.
7. Add the potatoes and cook until tender.
8. Drain the water.
9. Peel the skin and mash the potatoes well.
10. Heat a pan over medium flame.
11. Add the butter and stir until melted.
12. Add the milk, salt, pepper powder, garlic pulp, thyme, cheese and mashed potatoes.
13. Mix well and mash until potatoes are smooth.
14. Serve at once.
image via YouTube