Mor Kuzhambu is a very popular South Indian dish especially in Tamil Nadu and parts of Kerala with numerous local variations.  This variation is one of the most commonly made variation especially during weddings or special occasions. Paruppu Urandai (Lentil Balls/Dal Dumplings) are soaked and cooked in the Mor Kuzhambu.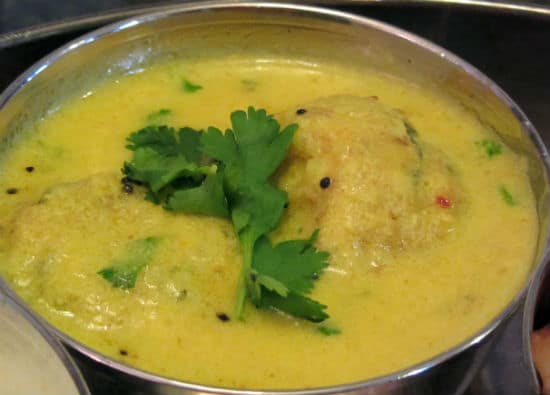 Ingredients:
Buttermilk – 2 cups, sour
Coriander Leaves – 3 tsp, chopped
Red Chilli Powder – 1 to 2 tsp
Salt as per taste
For making the Paruppu Urandai (Dal Dumplings):
Red Gram Dal – 1 cup
Rice – 2 tblsp
Dry Red Chillies – 2
Green Chillies – 2
Curry Leaves – 2 sprigs
Asafoetida – a small piece
Salt as per taste
For making the sambar masala (grind to a paste):
Bengal Gram Dal – 1 tsp
Red Gram Dal – 1/2 tsp
Cumin Seeds – 1/2 tsp
Rice – 1/2 tsp
Ginger – 1/2 inch piece, grated
Green Chillies – 3 to 4
Coconut – 1/4 cup, grated
For Seasoning:
Gingelly Oil – 2 tsp
Dry Red Chillies – 2, broken
Mustard Seeds – 1/2 tsp
Curry Leaves – handful
Method:
1. To make the sambar masala, grind all the given ingredients in a mixer to a fine paste.
2. To make the paruppu urandai, wash, soak the dals and rice for 60 to 90 minutes.
3. Drain the water and all the other ingredients for urandai.
4. Grind to a coarse batter.
5. Make small lemon sized balls of the batter.
6. If necessary dust your hands with rice flour.
7. Steam cook these balls in a pressure cooker for 10 minutes or till the balls have become hard, without putting on the weight.
8. Remove and keep aside.
9. Add the ground masala paste to the butter milk.
10. Add 1 1/2 to 2 cups of water and churn well.
11. Add salt, red chilli powder and coriander leaves.
12. Place it over low flame and simmer.
13. Add the steamed balls, 2 or 3 at a time.
14. When all the balls have been added, bring the kuzhmabu to a gentle boil and simmer for 2 minutes.
15. Remove from flame.
16. Fry all the seasoning ingredients in oil and add to the kuzhambu.
17. Garnish with coriander leaves.
18. Mix well and serve with hot rice.