Most of us have relished fried rice at some point in our lives. However, nothing tastes like fried rice which is blended with the flavors of spices and crab meat. It is a popular Thai dish which is not so common in India. However, there is nothing unusual about its recipe and ingredients that would trouble you while making it in your kitchen.
Thai Crab Fried Rice is a powerful combination of delicate flavors of crab meat and aromatic effect of carefully picked spices and herbs. You can also add a whole egg to this recipe to accentuate its texture and it also helps to bring all the ingredients together.
Fish sauce and soy sauce bring the typical seafood taste to this dish and make it even more delightful and tempting. A bowl of Thai Crab Fried Rice is all you need to satiate your seafood craving. Moreover, you might also think of the veggies like carrot, onion, and tomato to add a touch of the Indian seafood cuisine.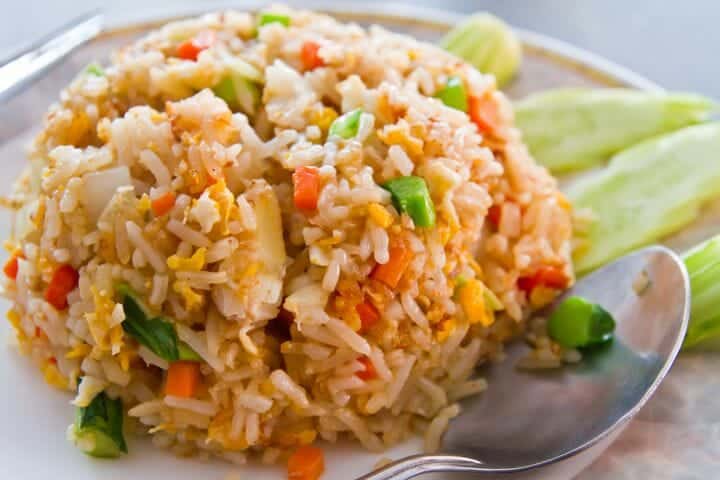 Crabmeat assists in regulating our blood pressure and some reports suggest that it also negates the harmful and carcinogenic effects of mercury, cadmium, etc. since it contains selenium (anti-oxidant).
It is a rich source of omega-3 fatty acids which proves to be good for heart patients. All these nutritional benefits make it a wonderful recipe for your family and kids. Moreover, seafood like crabmeat contains a very low level of saturated fat and therefore health-conscious people can eat it without any worries.
Thai cuisine is full of special and exotic non-vegetarian dishes especially when it comes to fish and seafood recipes but sometimes we think that it might be hard to replicate these recipes at our home.
We might not get all the special ingredients and spices of Thailand but we can easily replace them with those we find in India. Therefore, you must definitely try this recipe to enjoy an authentic Thai dish with your friends and loved ones.
Thai Crab Fried Rice

Recipe

Thai Crab Fried Rice is a powerful combination of delicate flavors of crab meat and aromatic effect of carefully picked spices and herbs.
Ingredients for
Thai Crab Fried Rice
100

gms

Crab Meat

1

cup

Rice

cooked (Leftover rice is also good)

2 1/2

tsp

Oil

1

no

Egg

lightly beaten

1

no

Garlic Clove

minced

3/4

tblsp

Fish Sauce

3/4

tblsp

Soy Sauce

1/2

tsp

White Pepper Powder

2

nos

Spring Onions

chopped

handful

Coriander Leaves

chopped

Lime wedges

to serve
Optional
1

no

Onion

sliced

1

no

Tomato

small, wedged, to serve

1

no

Carrot

small, sliced
How to make
Thai Crab Fried Rice
Heat 1 1/2 tblsp oil in a pan.

Stir-fry the garlic until light brown.

Add the rice and mix gently.

Add the fish sauce, soy sauce and stir again.

Remove the rice from the pan and keep aside.

Add the remaining oil and add the egg.

Cook until the bottom sets and add the rice to the pan.

Stir well.

Add the crab meat and cook for a few minutes or until the rice is fluffy.

Add the spring onions and pepper powder.

Continue to cook for 3 to 5 minutes, stirring a few times.

Garnish with coriander leaves.