Murukku (or Chakli) is a popular and traditional South Indian snack often made during festivals and special occasions. They are typically served as a teatime/evening snack or as an accompaniment to rice dishes.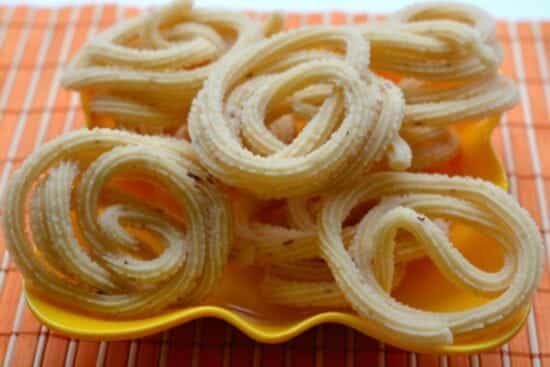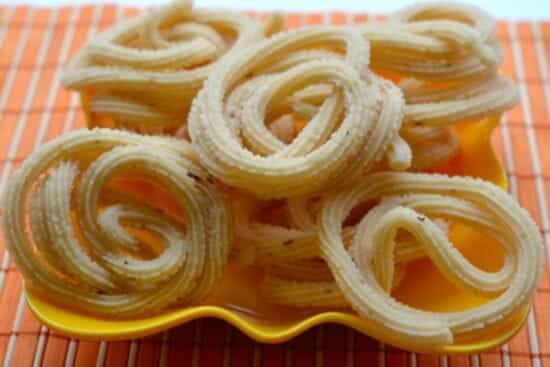 Ingredients:
Rice Flour – 2 cups
Cashew Nuts – 25 to 30
Ghee – 2 tsp
Red Chilli Powder – 1/3 tsp (optional)
Asafoetida Powder – 1/2 tsp
Salt as per taste
Water as required
Oil as required for frying
Method:
1. Soak the cashew nuts in water for 30 to 40 minutes.
2. Drain well and grind to a fine paste.
3. Transfer to a large bowl and add the rice flour.
4. Add ghee, asafoetida powder, salt and enough water.
5. Mix well to soft, nonsticky dough.
6. Grease a murukku press (available in all utensil stores) with little oil.
7. Add some of the dough to the press.
8. Heat oil in a deep frying pan over medium flame.
9. When the oil is hot enough, carefully press the murukku in concentric circles directly in oil.
10. Press one or two depending on the size.
11. Fry until the murukku is light golden, turning once or twice.
12. Remove and drain excess oil.
13. Store in an airtight container.
14. Serve as a snack.