A perfect appetizer/snack for any parties, special occasions or even on a weeknight dinner.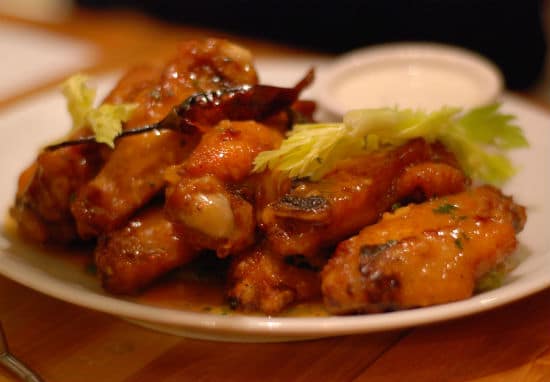 Ingredients:
Chicken Wings – 700 gms
Honey – 1/4 cup
Butter – 2 tblsp
Garlic – 1 clove, minced
Red Chilli Flakes – 1/2 tsp
Olive Oil – 3 tsp
Black Pepper Powder – 1/4 tsp
Salt – 1/2 tsp
Method:
1. Combine the chicken wings, oil, salt and pepper powder.
2. Mix well and transfer the chicken wings to a baking tray lined with parchment paper.
3. Heat a small pan over medium flame.
4. Add the butter, garlic, honey and red chilli flakes.
5. Bring to a gentle boil.
6. Keep stirring from time to time and cook for a minute more or until slightly thickened.
7. Place the chicken wings into a preheated oven at 210C/425F and bake for 25 minutes or until cooked through, turning them halfway through.
8. Brush them with the honey mixture and bake for another 5 minutes or until golden brown and crisp.
9. Remove, cool and serve with any remaining honey mixture.