Jangiri is a popular South Indian sweet typically made during weddings, special occasions or festivals.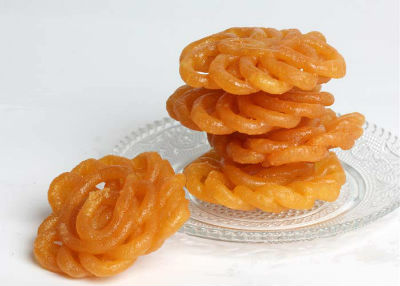 Ingredients:
Urad Dal – 250 gms
Raw Rice – 1 tblsp
Sugar – 1 1/4 kgs
Ghee – 1/2 kg
Water – 500 ml
Cardamom Powder – 1/4 tsp
Kesari Powder – 1/4 tsp
Method:
1. Soak the dal and rice for 45 minutes.
2. Grind together coarsely and add kesari powder.
3. Boil the water and sugar till it reaches a one string consistency.
4. Add 1 tsp of milk and remove the impurities that rise up.
5. Remove and add cardamom powder. Stir well.
6. Sprinkle a little water on the coarse batter and grind to a smooth paste.
7. Heat ghee in a pan over medium flame.
8. Add some of the dough to a cone shaped jangiri cloth with a small nozzle.
9. Gently press over the hot ghee to a jangiri shape and cook till done on both sides.
10. Ensure the jangiri is not crisp.
11. Remove and put it in the sugar syrup.
12. Allow it to soak for a minute or two.
13. Remove and transfer to a plate.
14. Serve.