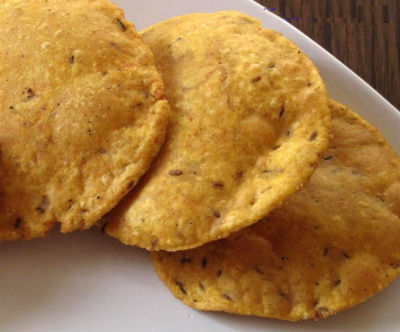 Ingredients:
Wheat Flour – 1 cup
Cauliflower – 1 cup, grated
Red Chilli Powder – 1/4 tsp
Garam Masala Powder – 1/4 tsp
Cumin Powder – 1 tsp
Baking Powder – 1 tsp
Onions – 2, large, chopped
Green Chillies – 2, chopped
Ginger – 1 tblsp, ground
Juice of 1/2 Lemon
Coriander Leaves – few, chopped
Paneer – 1 tsp, grated
Turmeric Powder – a pinch
Salt as per taste
Oil as required
Method:
1. Combine wheat flour, turmeric powder, salt, cumin powder and baking powder in a large bowl.
2. Knead well with little water and make small balls of the mixture.
3. Heat little oil in a pan.
4. Add the onions, cauliflower, garam masala powder, salt, red chilli powder and green chillies.
5. Saute well.
6. Add paneer, coriander leaves, lemon juice and mix well.
7. Flatten the prepared balls and add a spoonful of the mixture.
8. Fold well and roll them out into small puris.
9. Heat oil in a deep frying pan.
10. Fry the puris till light golden brown.
11. Serve.