A simple and delicious grilled Shrimps with lemon wedges. Best served with a cucumber yogurt sauce. Makes a great starter/appetizer/snack.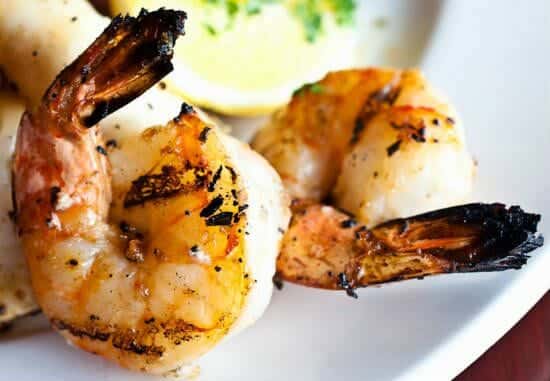 Ingredients:
Shrimps – 10 to 15, peeled, deveined, tails intact
Extra-Virgin Olive Oil – 1/2 cup
Lemon Juice – 1/4 cup
Garlic – 3 to 4 cloves, minced
Oregano – 2 tblsp + extra for garnish, chopped
Salt as per taste
Black Pepper Powder as per taste
Lemon Wedges – few
Method:
1. Mix the olive oil, lemon juice, minced garlic and oregano in a bowl.
2. Sprinkle some salt and pepper powder.
3. Mix well.
4. Transfer the shrimps to a large bowl and add the marinade. Reserve some of the marinade for basting.
5. Mix well and keep it in the fridge for 10 minutes.
6. Heat a grill pan over meidum flame.
7. Cook the marinated shrimps for 3 to 4 minutes on each side or until opaque.
8. Baste the shrimps with the reserved marinade from time to time.
9. Remove and transfer to a serving plate.
10. Serve with lemon wedges.