Not many people prefer bottle gourd, so this is a easy way to get them to eat it. This delicious raita with bottle gourd can be served with pulao, biryani or with spicy naan as well.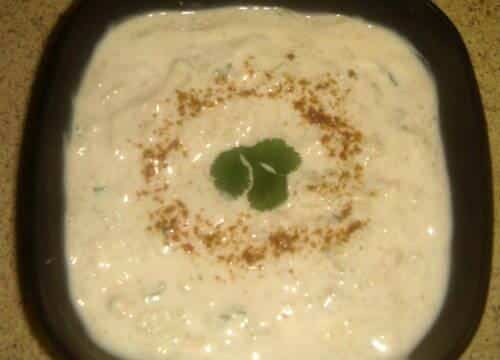 Ingredients:
Bottle Gourd – 500 gms
Plain Yogurt – 2 to 2 1/2 cups
Red Chilli Powder – 1 tsp
Cumin Powder – 2 tsp
Salt – 3 tsp
Coriander Leaves – few, chopped
Method:
1. Peel the bottle gourd and grate them finely.
2. Gently squeeze any excess moisture and drain well.
3. Heat a nonstick pan over medium flame.
4. Add the grated bottle gourds, 2 tsp salt and cook for 5 to 8 minutes.
5. If there is any water on the pan, drain them well and transfer to a plate.
6. Whisk the yogurt until smooth.
7. Add 1 tsp salt, red chilli powder and mix well.
8. Add the cooked bottle gourd and stir to mix.
9. Keep it in the fridge for 30 to 45 minutes.
10. Sprinkle cumin powder and coriander leaves on top.
11. Serve.