Kozhukattai (Modak) made with white chickpeas.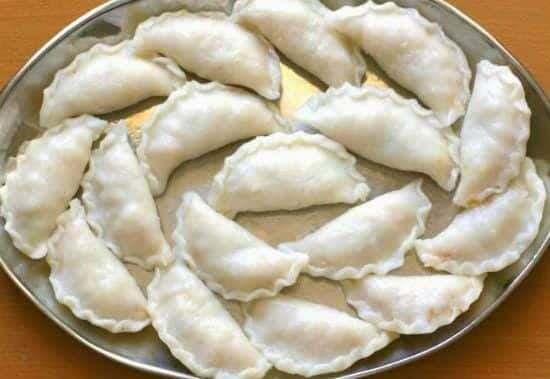 Ingredients:
Raw Rice – 2 cups
Oil – 1 tblsp + 1 tsp
Salt a pinch
For the filling:
Channa (White Chickpeas) – 1 cup, soaked, drained, boiled
Coconut – 2 tblsp, grated or finely chopped
Onion – 2 tblsp, finely chopped
Coriander Leaves – 2 tblsp, finely chopped
Green Mango – 1 tblsp, finely chopped
Lemon Juice – 4 tsp
Cumin Powder – 1 tsp
Salt as per taste
Method:
1. Soak the rice for 2 hours.
2. Drain well and spread out to dry.
3. Then grind to a fine powder.
4. Heat 2 cups of water in a pan over medium flame.
5. When it starts to boil, add a pinch of salt, oil and the rice flour.
6. Mix well without any lumps and remove from flame.
7. Mix again until it resembles a thick, pliable dough.
8. Cover with a damp cloth until required.
9. Grind the channa coarsely and mix well with the other filling ingredients.
10. Make small cups of the dough and add some of the filling.
11. Fold well and steam cook for a minute or two.
12. Remove and serve.