Easter is a popular festival celebrated all over the world during spring season. It always feels great to host an Easter party during the evenings and night. Surprise your guests this Easter with fabulous ham and egg recipes and give them a brunch or dinner they will remember for a long time. You can get the kids at home helping you with decorations and finishing of the dishes. Make your home look gorgeous with new spring printed furnishings to welcome your guests. Following are few popular dishes people will enjoy during this beautiful season and occasion.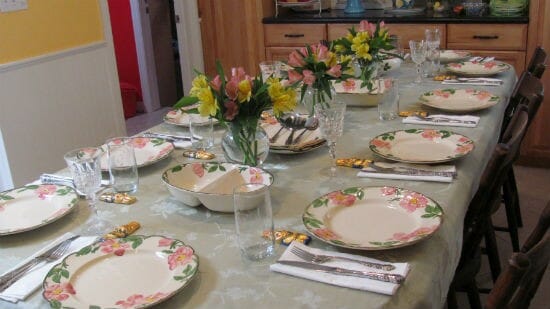 Honey Butter Ham: It is very simple main course that can be made in less time. It can be cooked in the oven with a glazing of honey, butter, Dijon mustard and brown sugar. Make sure to use cooked ham for this recipe as it will lesser time for preparation. Make diamond shapes on the skin of the ham to make it attractive and make the kids pierce cloves at the center of the diamond shapes for greater appeal.
Scrambled eggs: This is a highly simple side dish and can be made in minutes. The eggs are prepared in butter to give the extra taste. You can mix heavy cream and sour cream along with beaten eggs before pouring into the pan for extra definition. Do not forget to decorate the scrambled eggs with grated Cheddar cheese to make the young party members extra happy.
Roasted Asparagus.: This is a delicacy that goes for any occasion. It is highly easy to wash and clean Asparagus and roast in the oven with a drizzle of olive oil. This green side dish can work in place of salads if you want to cut off salads from the list of meals you are attempting to prepare on Easter.
Cheese Quiche: You can always surprise your guests with this main course treat made from home made pie crust or ready made pie crust available in the supermarket. Layer the quiche inside with Cheddar cheese and fill the inside with a mixture of sour cream, milk, flour, chives, beaten eggs and pepper. It puffs up to take golden yellow quiche shape in the oven and becomes ready to serve to hungry guests.
Wrapped salmon with spring vegetable: Fish can always be a wonderful choice in making the main course for a special occasion. You can mix salmon fish with spring vegetables like Asparagus, carrot, peas, slice of lemon and sprigs of tarragon in a parchment and let it bake for some time in the oven. The herbs and olive oil with the wine used acts wonderfully making the fish and vegetables seem moist and tender. You will be able to impress your guests with good presentation with salads on the plate.
Lemon garlic lamb in Minted Couscous: This main course can make your guests give you a lot of appreciation. This is a combination of couscous stirred with mint and placed on the plate with lamb shanks of top having lemon garlic magic going on it. The lamb needs to be cooked properly in a dish in the oven to compliment with the couscous.
Lemon Chicken Soup with Spinach and Dill: No meal is complete without a bowl of soup. This particular dish will fill the stomach of the guests and be very tasty. Use chicken thighs, rice, and chicken broth in the recipe to make a nice combination. Make sure to use onions, garlic, lemon juice, baby spinach and freshly chopped dill leaves to the soup for extra punch. This freshly prepared thick soup with always keep the guests in high spirits.
Classic deviled Eggs: Eggs are an important part of Easter occasion and no party becomes complete without serving appetizers comprising of eggs. These can be prepared very fast and easily with boiled eggs. You can make the boiled eggs look colorful using edible color after boiling and before shelling the eggs. Scoop the yolk out and mix thick cream, hot sauce, Dijon mustard and mayonnaise make it tasty. Put the mixture in a stylish manner on the white cut portion to make the plate look interesting. You can mix and match any spice, salt or pepper on the egg yolk for making the dish interesting.
Hearts of the Radish and palm Coins with Shrimp: This appetizer is also very simple to prepare and involves cutting radish and palms into coin shapes. You can present these beautifully on the plate keeping palm coin over the radish coin and two pieces of nicely cooked shrimp on top. The shrimp is cooked in lime juice, lime zest and toasted coriander seeds for extra elegance. This menu will make the guests prepare themselves for a fabulous menu ahead.
Strawberry and Rhubarb Fool: This British classic dessert will always mark the ending of any party in a special way. The preparation time for this colorful dessert is very less and even an amateur cook can try this. The strawberries and rhubarbs are tossed in the confectioner's sugar for some time and kept aside for making those cooked and juice to come out. The cream is whipped well using sugar and sea salt and kept in a serving bowl. The topping is done with a mixture of strawberries and rhubarbs and kept in the refrigerator for the chilling factor.
Try these popular dishes this Easter in your home and make your party successful. This party can make you famous among friends and they will love to know from you the recipes and secrets. Make attempts to use the best quality table cloths to decorate the dinner table. Use fresh spring flowers to make the place smell extra special. The vase containing the flowers will make the Easter celebration feel great. Serve the dishes in the special china ware you so long have yearned to show to your guests. You can definitely add a personal touch to the above mentioned dishes to show your skills. You can use different meats, fishes, vegetables and fruits in the dishes depending on your preference and availability in your local market.