Ganesh Chaturthi is celebrated with great pomp and splendour in India and in countries that have a sizeable Hindu population. It falls on the 6th day of the waxing moon in the Hindu month of Bhadrapada.
The monsoon season in India brings copious rains to drench and nourish some of the parched summer landscapes. In addition, it brings the plentiful grace of Lord Ganesha, who is the first and foremost deity in the Indian pantheon of Gods. The festival spells divinity, cheerfulness, and Ganesh Chaturthi recipes in equal measure. It marks the birth of Ganesha to Divine Mother Parvathi and Lord Supreme, Shiva.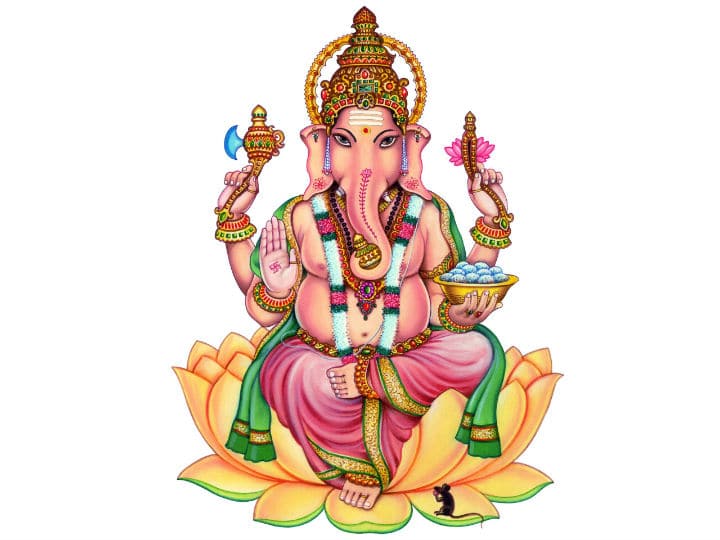 An Elephant Head Sized Significance
The myth of Ganesha's birth makes for a fascinating read. Mother Parvathi collected her dermal residue and mixed it with turmeric sandal paste after a bath. Unwilling to let go of it, she shapes it up into a beautiful masculine form and breathes life into it. On seeing her own work – a beautiful boy, she is overwhelmed with a surge of maternal pride. She appoints the boy as a sentry to guard her privacy while goes in for a bath. Later when Lord Shiva walks into the room, he is promptly denied entry by the boy (in line with his mother's orders). Enraged to the hilt, Shiva hacks off the boy's head, much to the horror of Parvathi. Later realizing the depth of her grief, Shiva brings the boy back to life after fitting the head of an elephant on his trunk. Ganesha is born!
At a superficial level, this may sound like an incredible story, but at a deeper level, it carries a subtler, scientific meaning. The idea of Parvathi creating a life form from her epithelial cells is not far-fetched in today's age of cloning and test-tube babies.
Ganesha is called the God of sciences, knowledge, wisdom, wealth, and prosperity. This is why Hindus revere him and seek his blessings before starting any new and important work or venture.
Celebrations & Societal Impact
During Ganesh Chaturthi, beautiful idols of Lord Ganesha made of clay, metal and paper mache make their way into Hindu households. Attractive shrines are erected to house the Ganpati idol. These shrines are decorated with forans, flower garlands, and festoons. Lamps in exotic shapes are lit, the delightful fragrances of incense and sandalwood waft through the homes, and the sonorous chimes of metallic bells fill the community with austerity and reverence.
Ganpati is considered to be the harbinger of good luck, and it is believed that his grace descends upon the world, removing obstacles and clearing our pathways towards a better spiritual mindset.
Outside of its religious fervour, Ganesh Chaturthi also promotes a wonderful social camaraderie. People from all walks of life come together with a powerful religious zeal to prepare for the celebrations. Since there is much work to be done for erecting pandals, doing processions, and making prashad menus, families and friends develop a warm companionship.
Charity programs and Annadanam events are planned, and for these, fundraisers and collection committees are set up and put into action. From the day of Aavahana to the day of Visarjan, people function as one unit, casting aside their differences and creating a religious bonhomie.
What Are The Rituals?
Ganapati pooja involves a series of steps as per Hindu Vedic tradition. The first steps are Aavahana and Praanaorathista, meaning the invocation of the divine spirit and energising it. The lord is indulged with something called Shodashopachara (16 kinds of offerings). They include a divine bath, chanting of mantras, dressing up the lord in festive finery, artistic waving of lamps, incense sticks and camphor, singing bhajans and of course – offering a variety of dishes cooked with utmost devotion.
In some states in India, the festival lasts for nearly 10 days while in others, it's celebrated for 2 days. The end of the celebrations is marked by Ganesha Visarjan: a grand procession of the Ganpati idol with bhajan incantations by devotees, and immersion of the idol into water.
Best Dishes to Cook Up This Ganesh Chaturthi
The 'Neivedya' or offerings to Ganapati Bappa form a crucial part of the festivities. Myth eulogises Ganesha as a foodie and so a grand variety of dishes is offered to the lord. A host of lip-smacking Pillayar Chaturthi recipes provides a sumptuous culinary spread for the occasion. The offerings to the lord during this festival serve as an outstanding example for India's festival cuisine. Check out 5 of the top dishes to consider this year for Ganesh Chaturthi:
Modak: These are sweet and spongy bite-sized goodies with a sweet coconut jaggery mixture encased in a soft rice paste cover.
Panchamrit: Food of the Gods! Panchamrit is made by mixing up milk, ghee, jaggery curd, and honey and this is a must-make prasad for Ganesh Chaturthi.
Vada: Vadas are crispy and flavourful deep-fried delights made of Urad/Chana Dal tingling with the flavours of chilli, hing and herbs.
Sundal: A healthy, nutritious, and simple dish – Sundal is made of pulses (chickpeas, cowpeas, chana or moong dal) with a modest tempering of mustard seeds, hing, and a dash of coriander & curry leaves. The most-loved form of Sundal on this day is the White Chickpeas format.
Ladoo: Ladoos are delightful and succulent balls made of boondi or fried gram flour or besan, with oodles of ghee and toasted nuts inserted into the mix.
Peda: Get going with mouth-watering milk patties with a hint of saffron and topped with pistachio slivers.
Kheer: A delectable concoction of rice, milk, and sugar jazzed up with an array of nuts and raisins – the perfect ending to a well-celebrated Chaturthi.
Conclusion
The festival of Ganesh Chaturthi sets off the whole country in a spiritual fervour. All cities don a celebratory air and soulful prayers are read across homes, temples, and streets. It is believed that Lord Ganesha's grace is bestowed upon humanity over these few days, washing away sorrows and filling our hearts with happiness, prosperity and peace.