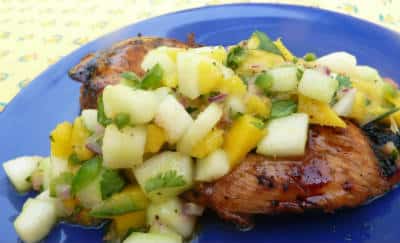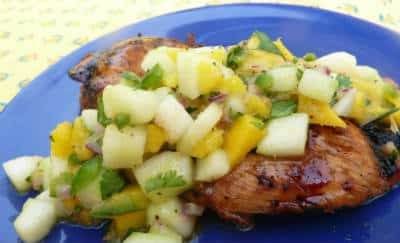 Ingredients:
Chicken Breasts – 2, skinless, boneless
Plain Yogurt – 1/4 cup
Mango – 1/2, ripe, peeled, chopped
Cucumber – 1/2 cup, chopped
Spring Onions – 1 tblsp, finely sliced
Garam Masala Powder – 1/2 tsp
Ginger – 1/2 tsp, grated
Black Pepper Powder – a pinch
Salt as per taste
Coriander Leaves – handful, chopped
Honey – 2 tsp
Oil as required
Method:
1. In a small bowl, mix the ginger, salt, pepper powder and garam masala powder.
2. Rub this all over the chicken breasts. Ensure it is evenly coated.
3. Keep aside for 15 minutes.
4. Heat 1/2 tsp oil in a nonstick pan over medium flame.
5. Add the marinated chicken and cook for 6 to 8 minutes or until cooked through, turning from time to time.
6. Transfer to a serving plate.
7. Mix the yogurt and honey in a bowl.
8. Add the mango, coriander leaves cucumber and spring onions. Mix well.
9. Serve with the chicken.