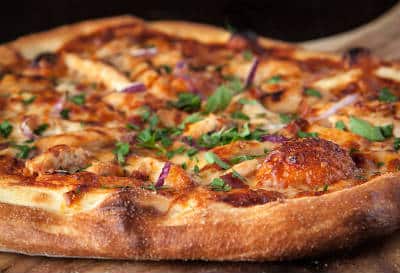 Ingredients:
Pizza Base – 1, medium (readymade or freshly made)
Chicken Thighs or Breasts – 1, boneless, skinless
BBQ Sauce – 1/4 cup
Cheddar (or Mozzarella) Cheese – 1 cup, chopped
Onion – 1/4 cup, sliced
Coriander Leaves – handful, chopped
Olive Oil as required
Salt as per taste
Method:
1. Brush the chicken with olive oil and sprinkle salt.
2. Keep aside for a few minutes.
3. Heat a griddle pan (or a grill) and grill the chicken over medium flame until almost cooked.
4. Remove and cool for a minute. Then chop into bite-sized pieces.
5. Spread the bbq sauce on the pizza base.
6. Add the chicken, onion and cheese. Sprinkle some coriander leaves on top.
7. Bake in a preheated oven at 175C/340F for about 10 minutes or until the cheese has melted and the crust is golden.
8. Remove and cool.
9. Cut into slices before serving.