Valentine's Day is a special day for lovers to celebrate all over the globe. You will feel nice to be with your loving husband, wife, girlfriend or boyfriend during this day. Make the day feel special with surprising gifts and fascinating dinner for both of you. Spend some time decorating the dinner table with fashionable table cloth, flowers and candles. Use nice dinner set and cutlery for the occasion. Try making some innovative and romantic meal menus to make the day a memorable one. To complement the romantic ambiance, consider crafting an exquisite menu design that showcases the delectable culinary delights awaiting your cherished Valentine.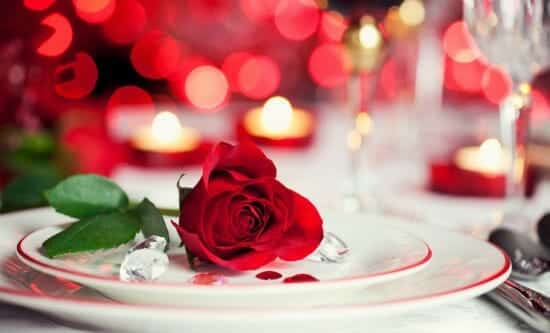 Try introducing the meal with Shrimp Bisque with Bourbon. This flavorful shrimp soup can be prepared in minutes with no hassles at all. The shrimps must be properly cleaned and deveined and sauted in oil. The sauce is prepared by heating oil in pan, followed by addition of celery, fennel, onion and garlic paste, salt, pepper, basmati rice, chicken broth, white wine, tomato sauce, bourbon, rosemary and thyme pieces, all-purpose flour and heavy cream. The sauce is prepared until everything is cooked well. When the liquid sauce is ready, add shrimps on top and serve in a stylish bowl.
Avocado and Strawberries with Honey Vinaigrette is a wonderful salad that can serve as the side dish during the first course of the meal. Just cut avocado and strawberries into wedge shaped pieces and put on a side plate. Prepare the topping by mixing lemon juice, olive oil, sea salt, honey and black pepper. Whisk the mixture and pour on top of the trimmed fruits.
Roasted Vegetable in Macaroni and Cheese can be a healthy meal at the special event. Roast the plum tomatoes and broccoli florets in oven to 400 degrees. Keep aside and prepare the pasta using penne pasta, warm milk, olive oil, freshly ground thyme, pepper, salt, Cheddar cheese, flour and Dijon mustard. Mix the boiled pasta with the frothy mixture prepared with butter and milk. Top the pasta with roasted veggies.
Salmon glazed with Pineapple Juice and Soya Sauce can be a great main course. Salmon is high in omega 3 and is the best ingredient for this type of occasion. Take skinless and boneless thick fillets of salmon and marinate with pineapple juice, low sodium soya sauce, miso (mixture of rice in fermented soya bean used in Asian cooking), sherry, salt and pepper. Then cook in the oven well until it is fully cooked.
Lamb served in a sauce can wow your partner in this special day. Choose the best rack of lamb and roast it in the oven with olive oil, salt, pepper, garlic and breadcrumbs. Place it on a plate and put the glaze on it containing lamb fat, carrots, celery, chicken stock, salt, pepper, red wine, garlic cloves, rosemary and mint flavoring. The glaze compliments the lamb in brilliant way and will make you both feel great during the dinner. You can use this as a main course item.
Ricotta Mashed Potatoes can serve as a wonderful side dish. Take gold potatoes and peel them well. Boil them well and mash those with butter, milk, salt and pepper. Keep the mashed portion on baking tray to make the upper layer brown and crispy. This will complement the main dish wonderfully.
Try making Breaded and Baked Chicken Drumstick as finger food while chatting on that day just before the main course is served. This can be prepared with chicken drumsticks coated with breadcrumbs, salt, pepper, Worcester sauce, Dijon mustard, olive oil, mayonnaise and olive oil. This is kept in the baking tray and put in the oven till the drumsticks are well cooked.
Grilled Cheese Sandwich with egg and ham can be a great first course or a side course for the special night. Rye bread can be chosen for this menu. Cook a poached egg with butter and place it on a bread slice grilled in butter. Put a layer of ham, cheese slice and lettuce on top and put another slice on top. Grill the other side and serve hot.
Greek Meatball is another great recipe for this special day. It is easy to prepare. Just put garlic, onions, green jalapeno in oil and toss well. Mix lamb mince, orange zest, mint leaves and tossed mixture together well with hands and add salt and pepper. Bake it in the oven for some time and it is ready to serve with Greek style yogurt.
Champagne and Grape Jelly is a great way to give the toast for the wonderful occasion. This easy to prepare jelly is made in two parts. At the first champagne is poured with white grape juice and sugar in hot pan and brought to boil. Then butter, lime juice and pectin id added to finish the jelly and stored in a jar. Grape jelly is prepared in the same manner using another portion of champagne, red grape juice, zest and lime juice in a similar manner on heat. Pectin and butter are added to thicken it and the jelly is allowed to settle on top of champagne jelly.
Dark Chocolate Pudding is a stunning dessert choice for the special day. You can prepare it simply by stirring in pieces of dark chocolate in whole milk and cream with sugar, salt and cocoa. When it thickens you can pour on a stylish champagne flute. Then heat the rest of whole milk with cornstarch in it and a touch of vanilla extract to top the chocolate pudding.
The Berry Ice Cream can be served with crispy biscuits at the end of the dinner. You can blend forest red berries with castor sugar in a food processor and add the whisked double cream on it smoothly. Stack the mixture in the fridge to cool and serve in a stylish bowl.
The festive dinner must always have drink accompaniment. Rasmopolitan is a wonderful cocktail made with lime juice, raspberries flavored vodka, citrus flavored vodka, cranberry juice, Chambord and simple sugar. Serve in a martini glass with toppings of raspberries.
Make your Valentine's Day more romantic with these scrumptious dinner menu ideas.
Happy Valentine's Day!