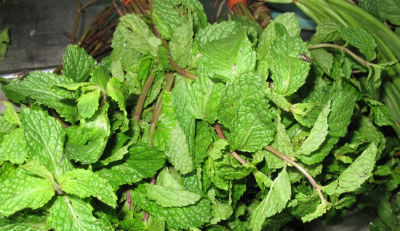 Ingredients:
Toovar Dal – 1/4 cup
Turmeric Powder – 1/2 tsp
Salt as per taste
Lime Juice – 1 1/2 tblsp
Coriander Leaves – 2 tblsp, finely chopped
Grind to a smooth paste:
Mint Leaves – 1/2 cup
Green Chillies – 2, chopped
Coriander Seeds – 1 1/2 tsp
Black Peppercorns – 1/2 tsp
Cumin Seeds – 3/4 tsp
Water – little

For Tempering:
Ghee – 2 tsp
Mustard Seeds – 1/2 tsp
Cumin Seeds – 1 tsp
Asafoetida Powder – 1/2 tsp
Dry Red Chilli – 1, halved
Curry Leaves – few
Method:
1. Wash the dal and drain.
2. Pressure cook with turmeric powder and 1 cup of water for 5 minutes.
3. Transfer it to a heavy kadai.
4. Add 2 cups of water and whisk well.
5. Add the mint paste and salt.
6. Place pan over high heat and bring to boil.
7. Add more water if required.
8. Lower heat and simmer till rasam froths up.
9. Remove from heat and add lime juice.
10. Heat ghee for tempering over moderate heat.
11. Add the tempering ingredients and fry.
12. When mustard seeds start spluttering, add it to the rasam.
13. Garnish with coriander leaves.
14. Serve hot with plain rice.