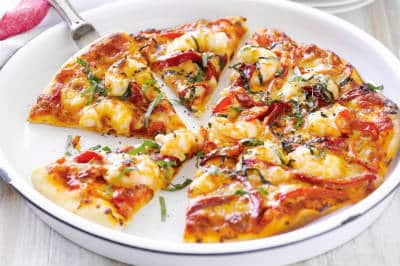 Ingredients:
Capsicums – 1 cup, sliced
Readmade Pizza Base – 1 or 2 (depending on size)
Cherry Tomatoes – 3, finely sliced
Spinach – 1/4 cup, shredded
Mozzarella Cheese – 2 cups, shredded
Black Pepper Powder as per taste
Basil Leaves – 3 tblsp, finely chopped
Olive Oil – 2 tblsp + 1 tsp
Method:
1. Brush the pizza base with olive oil.
2. Heat 1 tsp olive oil in a non-stick pan over medium flame.
3. Saute the sliced capsicums for a minute and remove.
4. Spread the capsicums, tomatoes and spinach on the pizza base.
5. Sprinkle cheese and pepper powder.
6. Bake in a preheated oven at 425F for 10 minutes or until the cheese has melted fully.
7. If you do not an oven, then heat a non-stick pan over medium flame. Place the prepared pizza and cover with a lid. Cook for 10 minutes. Remove when the cheese has melted fully and the base has turned golden brown.
8. Garnish with basil leaves.
9. Slice and serve at once.