A delicious, easy to make and light dessert for any occasion.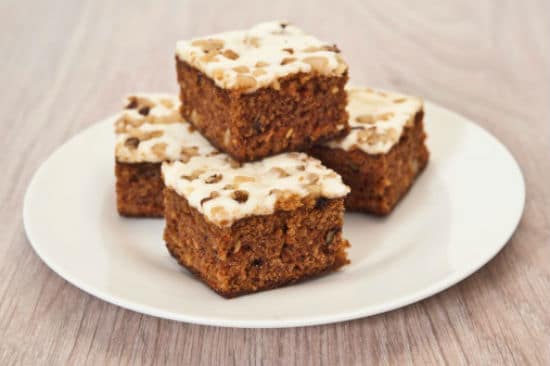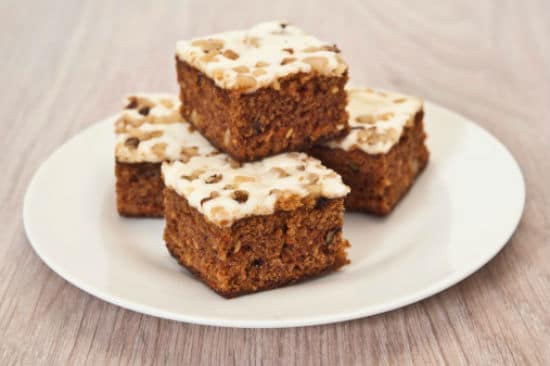 Ingredients:
Maida (Plain Flour) – 500 gms
Corn Oil – 550 ml
Carrot – 500 gms
Sugar – 650 gms
Walnuts – 100 gms, chopped
Baking Powder – 2 tsp
Eggs – 8
Cinnamon Powder – 3 tsp
For the Cream Cheese Frosting: (Optional)
Butter – 200 gms, unsalted
Cream Cheese – 200 gms
Sugar – 4 cups, powdered
Vanilla Extract – 2 tsp
Method:
1. Wash and grind the carrots to a fine puree.
2. Mix the maida, baking powder, cinnamon powder and walnuts in a large bowl.
3. Break the eggs in a bowl.
4. Add the sugar and whisk well.
5. Add this to the flour mixture along with corn oil and carrot puree.
6. Mix well.
7. Transfer to a greased cake pan lined with parchment paper.
8. Place it into a preheated oven at 180C and bake for 20 to 25 minutes or until a skewer inserted into the centre comes out clean.
9. Meanwhile to make the cream cheese frosting, beat the butter and cream together in a bowl.
10. Add the sugar and vanilla extract.
11. Continue to beat until smooth and creamy.
9. Remove and cool.
10. Spread the cream cheese frosting on top and garnish with walnuts.
11. Serve.