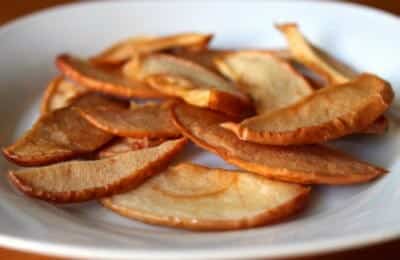 Ingredients:
Apples – 3
Sugar – 3 tblsp
Cinnamon Powder – 1 1/2 tsp
Salt – 1/3 tsp
Oil as required
Method:
1. Mix the sugar, salt and cinnamon in a bowl.
2. Slice the apples to 1/4inch thickness and place them on a large plate.
3. Sprinkle the cinnamon mixture on top and leave them for 2 to 3 minutes.
4. Heat oil for frying in a non-stick pan.
5. Fry the apple slices till crisp and golden.
6. Remove and drain excess oil.
7. Serve at once.
Alternate Method:
Follow steps to 1 to 3 from above.
4. Transfer the apple slices to a greased baking tray lined with parchment paper.
5. Place them in a preheated oven at 300F/150C and bake for 30 minutes.
6. Rotate the tray from time to time so that the apple slices cook evenly.
7. Remove when the slices curl at the edges and golden, about 10 minutes.
8. Cool and serve.