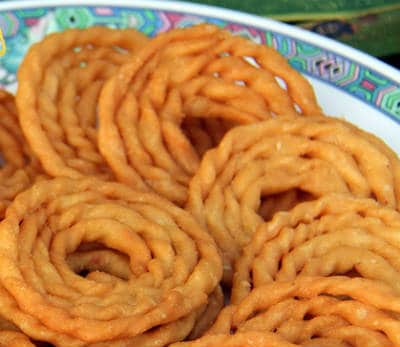 Ingredients:
Rice Flour – 10 cups
Urad Dal Flour – 1 cup
Butter – 1 cup
White Sesame Seeds – 1 tsp
Cumin Seeds – 1 tsp
Asafoetida Powder – a pinch
Oil as required
Coconut Oil as required
Salt as per taste
Method:
1. Combine rice flour, salt, buutter, asafoetida powder, sesame seeds, cumin seeds, urad dal flour and enough water.
2. Mix well.
3. Grease your hands with a little coconut oil and take some of the dough.
4. Gently roll them into murukkus on a white cloth ensuring 5 circles are formed.
5. Heat oil in a pan over medium flame.
6. Fry the prepared murukkus till light golden brown.
7. Remove and drain excess oil.
8. Serve.