Paneer Bhurji is a vegetarian version of the popular scrambled eggs recipe. One of the most simplest dishes to make, it is a popular, delicious and easy to make breakfast dish across India. Make it a meal on its own or have it as a side with Roti or Paratha, this is a fail safe dish any time. Paneer is an excellent source of calcium, proteins and essential fats and along with the vegetables, makes it a wholly nutritious meal in itself. If you are on a low carb, keto or a paleo diet, this is an excellent dish to have multiple times in a week.
I usually make it using home-made paneer. Left over or old milk is curdled with a bit of lemon juice, strained using a muslin cloth and hung out to drain. The resultant product is a crumbly, cheesy and soft version of paneer, perfect for making the bhurji.
A few people prefer the version of bhurji that doesn't have much gravy like texture whilst a few others like it to be slightly runny. The choice of vegetables is completely open ended with variations ranging from capsicum & peas to anything as exotic as broccoli. Paneer Bhurji is such a versatile dish that it can even be used as a stuffing for dosas and parathas.
If you like this, check out some of the our other variants here: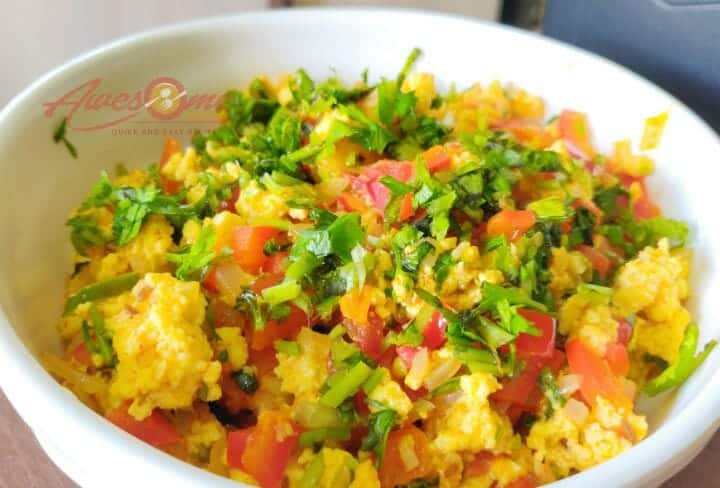 Ingredients:
Paneer – 200g
Onion – 1, medium, finely chopped
Tomato – 1, medium, finely chopped
Capsicum – 1, small, finely chopped
Coriander Leaves – 1 tsp, finely chopped
Lemon Juice – 3/4 tsp (optional)
Oil – 1 tsp
Cumin Seeds – 1/4 tsp
Red Chilli Powder – 1/4 tsp
Coriander Powder – 3/4 tsp
Turmeric Powder – a pinch
Garam Masala Powder – 1/4 tsp
Salt as per taste
Method:
Crumble the paneer and keep aside.
Heat oil in a nonstick pan over medium flame.
Fry the cumin seeds for 20 seconds.
Add the onions and saute for a minute.
Add the red chilli powder, coriander powder, turmeric powder, garam masala powder and stir well.
Saute for another minute.
Add the tomatoes and a pinch of salt.
Stir well and cook for a minute.
Now add the capsicums and saute for one more minute.
Add the crumbled paneer and mix well.
Cook for a minute or two.
Switch off the flame, add the lemon juice and stir well.
Garnish with coriander leaves & serve hot.
Tip: If desired, you can also add 1/4 cup of green peas.