Tomato Rasam (or Thakkali Rasam) is a traditional South Indian dish served with hot steamed rice with a poriyal of choice or as a soup (especially in the recent few years). A staple dish, the tomato rasam recipe is a basic and most common one.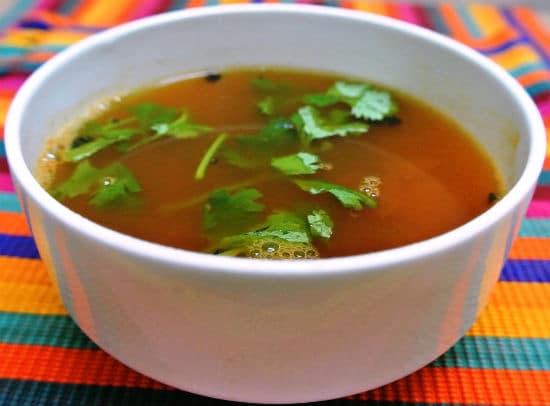 Ingredients:
Toor Dal – 1/2 cup
Tomatoes – 5 to 6, chopped
Tamarind Water – 2 cups
Turmeric Powder – a pinch
Rasam Powder – 3 tsp (readymade)
Ghee or Oil – 1 tblsp
Mustard Seeds – 1 tsp
Cumin Seeds – 1 tsp
Red Chilli – 1, large
Asafoetida Powder – a pinch
Green Chillies – 2, slit lengthwise
Ginger – 1 inch piece, peeled, finely chopped
Curry Leaves – small handful
Coriander Leaves – to garnish
Salt as per taste
Method:
1. Rinse and wash the dal.
2. Pressure cook for 4 to 5 whistles and switch off the flame.
3. When the pressure reduces, mash the dal well and keep aside.
4. Heat oil or ghee in a pan over medium flame.
5. Add the mustard seeds and fry for 10 seconds.
6. Add the cumin seeds, red chilli, asafoetida powder, green chillies, ginger and curry leaves.
7. Saute for a minute.
8. Add the tomatoes.
9. Add the tamarind water, turmeric powder, rasam powder and salt.
10. Mix well and simmer for a few minutes.
11. Add the cooked and mashed dal.
12. Pour 2 1/2 to 3 cups of water and bring to a gentle boil.
13. When the foam starts forming on top, switch off the flame.
14. Garnish with coriander leaves.
15. Serve hot with rice.
Tip: Avoid boiling the rasam for too long as it will loose its flavour and taste.