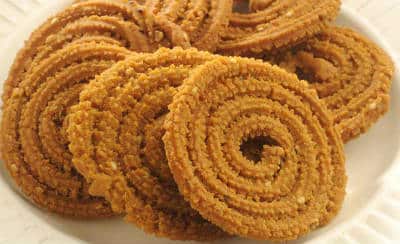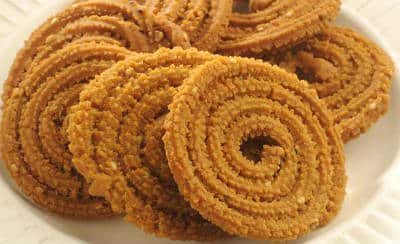 Ingredients:
Raw Rice – 150 gms
Moong Dal – 2 1/2 tblsp
Bengal Gram Dal – 2 tblsp
Coconut Milk – 1/2 cup
Cardamom Powder – little
Salt as per taste
Oil as required for frying
Method:
1. Dry roast the moong dal and bengal gram dal till golden.
2. Remove and grind to a fine powder with raw rice.
3. Add salt, cardamom powder and coconut milk.
4. If required, add a little water.
5. Mix well to a thick dough (not too thick and not too thin).
6. Heat oil in a frying pan.
7. Add the dough to a murukku press.
8. Gently press over hot oil to make small/medium size murukkus.
9. Fry them till light golden and remove.
10. Drain excess oil and store in an airtight container.
11. Serve.