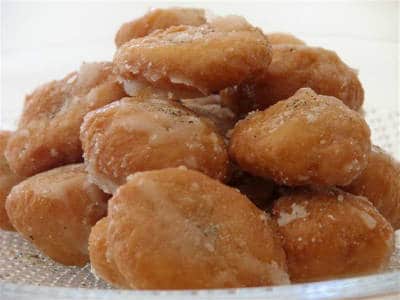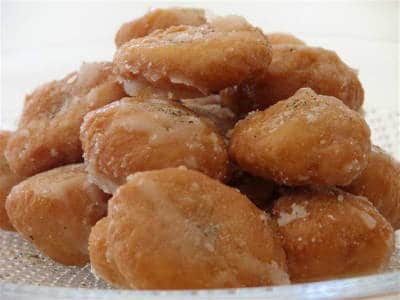 Ingredients:
Maida – 150 gms
Sugar – 250 gms
Milk – 1 tsp
Dark Chocolate – 3 tsp, grated
Oil – 250 ml
Ghee – 2 tsp
Kopra – 2 tsp
Edible Food Colour – a pinch, as per choice
Curd – 1 tsp
Cooking Soda – a pinch
Salt as per taste
Method:
1. Add little water to sugar and bring to a boil.
2. Add 1 tsp milk and remove the scum that rises to the top.
3. Bring to a boil again.
4. Add the grated chocolate and stir till dissolves fully.
5. Simmer till it has a sticky texture. Remove from flame and cool.
6. Add salt, ghee and cooking soda. Stir well.
7. Add maida, curd and little water.
8. Mix well to a poori dough consistency.
9. Make small lemon sized balls of the dough and roll them into pooris.
10. Mix the edible food colour and kopra. Keep aside.
11. Heat oil in a frying pan.
12. Fry the prepared pooris till light golden and remove.
13. Add them to the chocolate sugar syrup and dip them till fully immersed.
14. Remove and transfer them to a plate.
15. Sprinkle the kopra and serve.
Tip: Ensure the chocolate sugar syrup is not hot at step #13. Add the badushas to cooled syrup only.
Note: image is for illustration purposes only and not that of the actual recipe.