Papdi Chaat or commonly known as Papri Chaat is a popular North Indian Chaat/Street Food dish.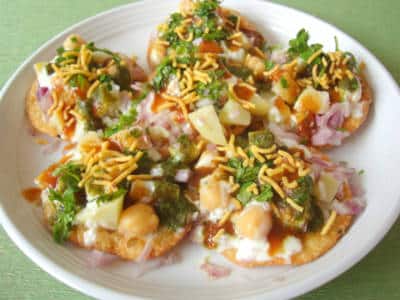 Ingredients:
Maida – 250 gms
Urad Dal – 1 cup
Salt as per taste
Cumin Seeds – 1/2 tsp
Oil – as required + extra for frying
To serve:
Potatoes – 1 cup, boiled, peeled, chopped
Curd – 1 cup
Sweet Tamarind Chutney as required
Black Salt as per taste
Salt – a pinch
Cumin Seeds – little
Chaat Masala Powder as per taste
Red Chilli Powder as per taste
Sev as required
Coriander Leaves – handful, finely chopped
Green Chutney as required
Method:
1. Mix maida, salt and cumin seeds in a bowl.
2. Soak the urad dal for 30 minutes and grind to a coarse paste.
3. Add this to the maida and mix well.
4. Add 2 tblsp oil and mix to a thick dough.
5. Cover with a damp cloth for 10 minutes.
6. Knead again and make small balls of the dough.
7. Flatten them to a small puri or roll them out.
8. Heat oil in a deep frying pan.
9. Fry the prepared papdis until light golden brown.
10. Remove and drain excess oil.
11. Store in an airtight container.
12. To make the chaat, crush a few papdis (or spread 5 to 6 papris) onto a plate.
13. Sprinkle the potatoes on top.
13. Pour 1 tblsp of green chutney, sweet chutney, curd and salt.
14. Crush 1 or 2 papris on top.
15. Garnish with black salt, red chilli powder, cumin seeds, coriander leaves and sev.
16. Serve at once.