Badusha is a very famous South Indian sweet made with plain flour, sugar, butter and ghee. It is often made during festivals like Diwali, Janmashtami and especially during weddings.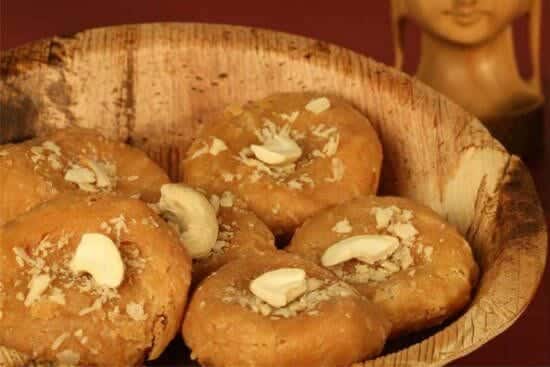 Ingredients:
Maida – 500 gms
Sugar – 350 gms
Butter – 150 gms
Ghee – 150 gms
Cooking Soda – 1/4 tsp
Water – 1/4 cup
Kesari Powder – a large pinch
Cardamom Powder – 1/2 tsp
Oil – 250 ml
Method:
1. Combine the cooking soda with maida and sieve well for 3 to 4 times.
2. Add kesari powder, butter and mix well for 10 minutes.
3. Add water, gradually, and mix.
4. Make small balls of the mixture and flatten them in your palms.
5. Press, the center, with your thumb to make a depression.
6. Heat ghee and oil together in a deep pan over medium flame.
7. Fry the prepared discs till light golden.
8. Boil the sugar with water over medium flame.
9. Add 1 tsp of milk and remove the scum that rises to the top.
10. Continue to boil and add cardamom powder.
11. When it attains an one string consistency, reduce flame to low.
12. Add the fried badhushas and coat them nicely with the sugar syrup.
13. Remove and transfer to a plate.
14. When the sugar syrup has hardened, store in a clean and airtight container.