Salads are healthy as well as nutritious. Salads taste most refreshing during the summer season. Moreover, fruits and vegetables are available in plenty in summer. Using ingredients that are commonly available during this season, the below given popular summer salads can be prepared to accompany your meals, barbecue or just as a snack on their own.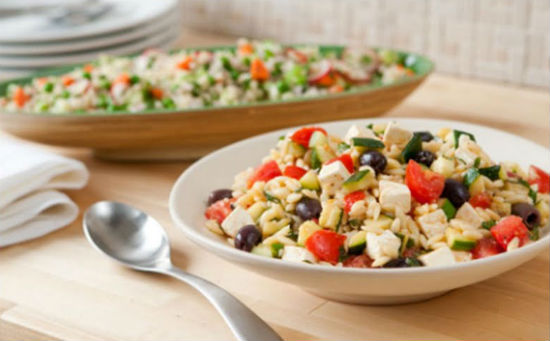 Fresh Broccoli Salad
Fresh Broccoli Salad has an interesting blend of vegetables, meats and fruits. Fresh broccoli, bacon, onion, raisins, and sliced almonds are found in a dressing of mayonnaise, white wine vinegar and white sugar. One may not decide to try it at the very first go, but if you will, you really will be surprised at its yummy flavor on your taste buds. Its crunchy bite and sweet taste lingers on your mind. Just try it, you'll be happy that you did!
Strawberry and Feta Salad
The Strawberry and Feta Salad is an excellent side dish for a barbecue or potluck. In its tangy as well as sweet dressing, an unusual combo of ingredients such as toasted almonds, romaine lettuce, feta cheese, strawberry, honey, minced garlic, Dijon mustard, etc. are found.
Grilled Chicken Salad with Raspberries
Grilled Chicken Salad with Raspberries has a beautiful appearance as well as a great taste. Instead of Raspberries, you can use any other seasonal fruit like Strawberry, blueberry or blackberry. In winter, these fruits can be replaced with slices of orange. This restaurant fancy salad has a mixture of greens topping a grilled chicken breast that has been marinated and dressed in raspberry vinegar.
Strawberry-Mango Mesclun Salad
This colorful salad has a delicious combination of sweetened dried cranberries, mango, mixed greens and strawberries in an balsamic vinegar and oil dressing. This fantastic fresh fruit salad is not only tasty but also looks quite beautiful and presentable.
Spinach Salad with Pistachio Chicken
The Spinach Salad with Pistachio chicken tastes best when served along with French bread at dinner. The fine slices of pistachios encrusting the boneless chicken breasts tastes great with the olive oil, baby spinach, garlic powder, cherry and black pepper combination.
Strawberry Summer Salad
The Strawberry Summer Salad is something that anyone would like. It has a lovely combo of sliced strawberries, poppy seeds, red onion, white vinegar, fresh spinach, white sugar and mayonnaise. This fruit salad has a fine blend of sweetness and sourness, and hence is a fantastic delight not only for the summer times, but at any time of the year.
Tomato-Bread Salad with Basil and Capers
This perfectly salty salad blends cubed Italian bread with diced tomatoes, cut red onions, minced garlic, torn basil leaves, drained capers, olive oil, red wine vinegar and black pepper powder.
Cucumber, Tomato and Red Onion Salad with Mint
Fresh cucumbers, mint leaves, red onions and tomatoes in a sweet-sour mint dressing is light and refreshing when had at summer times. These commonly available seasonal ingredients make this salad an oft prepared delicacy to accompany your lunch or dinner.
Strawberry-Melon Summer Salad
This fruity, nutrition packed, and tasty salad is a perfect company for BBQs. A colorful mixture of strawberries, watermelon and cantaloupe in a slightly sweet dressing of lemon yogurt, lemon juice and honey tastes absolutely great.
Heirloom Tomato Salad with Rosemary
This is a favorite summer salad for many. The seasonal heirloom tomatoes are available in plenty during summer and therefore this salad is an excellent option during these hot days. This light, refreshing, fresh and colorful salad combines slices of Heirloom tomatoes with olive oil, rice wine vinegar, dried oregano, rosemary and black pepper. This refreshing summer season delight is simply delicious that you would like to have more of it!