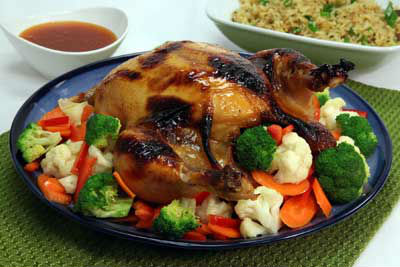 Ingredients:
Chicken – 1/2, rinsed, excess fat and skin removed
Garlic – 2 cloves, chopped
Salt – 1/2 tsp
White Pepper Powder – 1/2 tsp
Coriander Leaves – 1/2 tblsp, minced
Rice Wine – 1 tblsp
Coconut Milk – 1 tblsp
Thai Fish Sauce – 1/2 tblsp
Ginger – 1/2 tsp, chopped
Soy Sauce – 1 tblsp
Method:
1. Mix garlic, salt, pepper powder, coriander leaves, rice wine, coconut milk, fish sauce, ginger and soy sauce.
2. Stir till well combined.
3. Pour the marinade in a ziplock bag and place the chicken in it.
4. Seal the bag and turn around till chicken is evenly coated.
5. Keep aside for 45 to 60 minutes in the fridge.
6. Remove the chicken and place them breast side up on a roasting pan and discard the remaining marinade.
7. Roast the chicken in a preheated oven for 45 minutes at 350F.
8. Then, broil for 5 to 10 minutes or till done.
9. Remove and serve.
Note: image is for illustration purposes only and not that of the actual recipe.