Masala Vadai is a very very popular South Indian deep fried snack. They are made during most festivals, special occasions or as an evening snack. Masala Vadais are also a popular street food item, typically found in various roadside stalls and beaches. Best served with coconut chutney.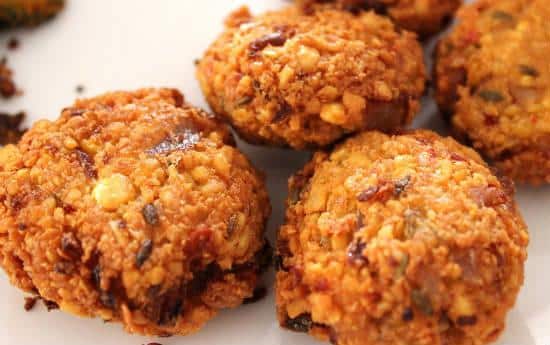 Ingredients:
Bengal Gram Dal – 2 cups
Onions – 4 to 5, finely chopped
Green Chillies – 10, finely chopped
Ginger – 1 inch piece, peeled, finely chopped
Saunf Powder – 3 tsp
Salt – 1 tblsp
Curry Leaves – few
Oil as required
Method:
1. Soak the dal in enough water for 2 to 3 hours.
2. Drain well.
3. Add salt, saunf power and grind to a coarse paste.
4. Transfer to a large bowl.
5. Add onions, ginger, curry leaves and green chillies.
6. Mix well.
7. Heat oil in a deep frying pan over medium flame.
8. Take small lemon sized balls of the dough and flatten them lightly on your palms.
9. Gently drop them into the hot oil and fry until golden brown.
10. Remove and drain excess oil.
11. Serve with coconut chutney and sambar of choice.
Subscribe to our Newsletter
Receive the latest recipes & kitchen tips !