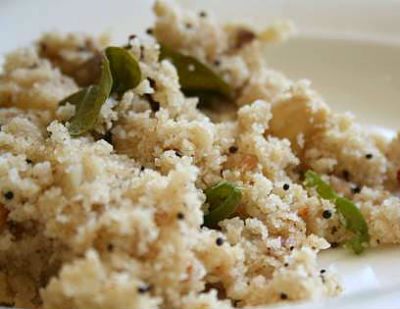 Ingredients:
Raw Rice – 1 cup
Toor Dal – 2 tsp
Black Peppercorns – 1 tsp
Dry Red Chillies – 4
Mustard Seeds – little
Curry Leaves – few
Bengal Gram Dal – 1/4 tsp
Milk – 2 tsp
Coconut – 4 tsp, grated
Lemon Juice – 2 to 3 tsp
Salt as per taste
Oil as required
Method:
1. Grind the rice with peppercorns coarsely and keep aside.
2. Soak the toor dal and drain the water.
3. Grind the dal, salt and red chillies together.
4. Heat little oil in a pan.
5. Fry the mustard seeds, curry leaves and bengal gram dal for 30 to 45 seconds.
6. Pour 3 cups of water and bring to a boil.
7. Add the rice, dal and bring to a boil again.
8. Add coconut, milk and stir well till it reaches a upma consistency. It should not be sticky.
9. Remove and transfer to a bowl.
10. Add lemon juice and mix well.
11. Serve at once.
Note: image is for illustration purposes only and not that of the actual recipe.