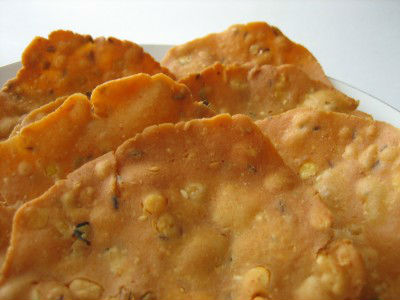 Ingredients:
Puzhungal Arisi (Boiled Rice) – 500 gms
Urad Dal – 50 gms, dry roasted and ground
Sesame Seeds – 2 tblsp
Dry Red Chillies – 4
Salt – 1 tblsp
Asafoetida Powder – 1/2 tblsp
Buter – 1 tblsp
Oil – 500 gms
Curry Leaves – few
Method:
1. Soak the rice for 5 hours and drain.
2. Add dry red chillies, salt, asafoetida powder and grind to a smooth batter.
3. Add 1 tblsp urad flour to the batter.
4. Add butter, curry leaves and sesame seeds.
5. Mix well.
6. Make small balls of the dough and flatten them on a greased plastic sheet.
7. Keep aside till the dough thickens a bit and the moisture level has reduced. If it is still wet, transfer it to a clean, white cloth and keep aside for a few minutes.
8. Heat oil in a deep frying pan over medium flame.
9. Fry the prepared thattais till light golden brown.
10. Remove and drain excess oil.
11. Store in an airtight container.