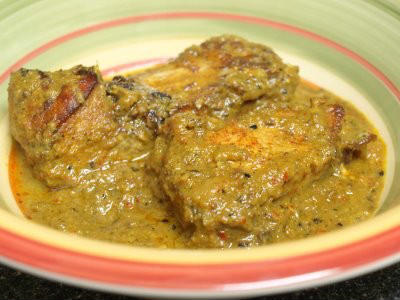 Ingredients:
White Fish – 500 gms, cleaned, skin removed, cut into fillets, washed, drained
Curd – 250 gms, whisked
Mustard Oil – 1 tblsp + 1 tblsp
Dry Red Chillies – 2
Cinnamon – 1/4 inch stick
Cumin Seeds – 1/4 tsp
Cloves – 2
Bay Leaf – 1/2
Onion – 1/2, finely chopped
Green Chillies – 2, small, slit
Ginger Garlic Paste – 1/2 tblsp
Turmeric Powder – a pinch
Red Chilli Powder – 1/4 tsp
Coriander Powder – 1/2 tsp
Salt as per taste
Sugar as per taste
Lime Juice – 2 tsp
Coriander Leaves – 2 tsp
For the marinade:
Red Chilli Powder – 1/4 tsp
Salt – 1/4 tsp
Turmeric Powder – 1/4 tsp
Oil – 1/2 tsp
Method:
1. Combine the marinade ingredients in a bowl.
2. Add the fish fillets and rub the marinade all over, ensuring the fish pieces are coated well.
3. Cover and keep aside for 15 minutes.
4. Heat 1 tblsp oil in a pan over medium flame.
5. Add the red chillies, cinnamon, cumin, cloves and bay leaf.
6. Add the onions and saute until golden brown.
7. Add the green chillies and stir-fry for 30 to 45 seconds.
8. Add the ginger-garlic paste and stir for 30 to 45 seconds.
9. Add the turmeric powder, red chilli powder, coriander powder.
10. Add a little water and mix well.
11. Reduce flame to low and add the curd.
12. Mix well.
13. Add salt and sugar. Cook till the gravy is thick and oil has risen to the top.
14. In a separate pan, heat 1 tblsp oil and fry the marinated fish fillets till golden brown and 3/4th cooked.
15. Add this to the gravy and stir to coat the fish with the gravy.
16. Simmer till the fish is cooked.
17. Add the lime juice and garnish with coriander leaves.
18. Serve hot with rice.