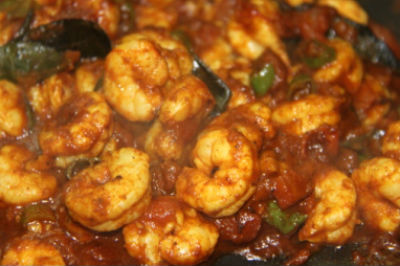 Ingredients:
Prawns – 500 gms, shelled, tails intact, deveined, washed, drained
Oil – 1 tsp
Onions – 2 tblsp, chopped or julienned
Kokum Extract – 1 to 2 tsp
Jaggery – little, grated
Salt – 1/4 tsp
Lime Juice – 2 tsp
Coriander Leaves – 2 tsp
For the masala:
Coconut – 1/2 cup, grated
Green Chillies – 2
Oil – 1 tsp
Ginger – 1/2 inch piece
Cinnamon – 1/4 inch stick
Coriander Seeds – 1/2 tsp
Peppercorns – 1/4 tsp
Turmeric Powder – 1/4 tsp
Red Chilli Powder – 1/3 tsp
Coriander Leaves – 2 to 3 tsp
Salt – 1/4 tsp
Method:
1. Heat oil for the masala in a pan.
2. Add all the masala ingredients and fry for 2 minutes.
3. Remove and grind to a coarse paste. Keep aside.
4. Heat 1 tsp oil in the same pan.
5. Saute the onions for a minute.
6. Add the ground masala, kokum extract and jaggery.
7. Mix well and add a little water.
8. Now add the prawns.
9. Add salt and mix well until the prawns are evenly coated with the masala.
10. Cover and cook for 3 to 4 minutes or until the prawns are opaque and firm.
11. Add the lime juice and garnish with coriander leaves.
12. Serve hot with roti, naan or rice.
image credit: jhovaan.blogspot.com
Note: image is for illustration purposes only and not that of the actual recipe.